Bonuses, Bonuses everywhere – So what is a Bingo Bonus?
In the ever growing world of online bingo, bonuses are being splashed around like confetti. For experienced players it can be a minefield to decipher, for newbies almost impossible. So what are they, why are there so many, and how do they work? And how can a business make money giving away all this seemingly free cash?
The most widely used online bingo bonus has to be the welcome bonus. This is given solely to new members of a site, and can come in the form of a deposit bonus, or in some cases a no deposit bonus. This is can be advertised on a percentage basis, 'join now get 400% free' for example, so a bingo deposit bonus of £40 is given to you when you open your account and place £10 in that account. The bonus amount offered varies hugely from site to site, as do the requirements attached to said bonus.
The Specifics of Different Online Bingo Bonuses
William Hill for instance, offers new players a £50 bonus split into two, a £40 Bingo Bonus and a £10 Games Bonus. To receive this bonus you have to open an account, and spend £10 on bingo games within 7 days of creating the account.
Gala Bingo has a similar offer of a £30 Welcome Bonus, once again £10 needs to be deposited into your new account and spent on bingo tickets to receive the bonus. They also sweeten the deal with a free cinema ticket.
Sun Bingo however, offer a welcome of 300% of your deposit as bonus on a deposit from £10 up to £100. This bonus is in your account immediately, and doesn't require you to actually spend anything before you get it credited.
At Wink Bingo the welcome bonus is a little different, you can deposit as little as £5 and get 250% bonus, but also if the deposit is over £10 you get the 250% plus a go on their spin the wheel promo which is an extra £15 – £1000 in bonus money. No spend is needed to get the bonus and the funds are available as soon as you deposit.
Top 6 Bingo Bonus
.
* T&C's apply, click PLAY NOW for details
Wow Free Money
So it's a way to print your own money then? Not quite. Before you rush out and open up hundreds of accounts, thinking you will get loads of free cash, there is a catch. The bonus money can't be withdrawn as cash at any time. It is only there to play bingo with on that site. Also all online bingo sites have what is called 'play through' or 'wagering requirements'.
Loosely explained these are an amount set out in the terms and conditions that you have to wager before you can withdraw any cash. A x2 wagering requirement means that you have to play games to the value of twice the amount of your bonus. So if you deposit £100 and get £300 bingo deposit bonus you would have to wager £600 before you can cash out. Some sites include the cash deposit as well so that would mean £800. So it's a good idea to read the terms and conditions very carefully before committing. Every site has a very different policy, and by law have to explain this policy, sometimes it is buried a bit but it has to be there. If you can't find the terms and conditions, contact the site before you deposit any money.
So What is the Point of The Welcome Bonus?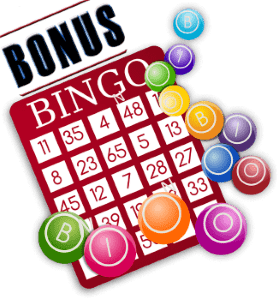 Well the main benefit of the welcome bonus for a new player is you get to use the bonus to learn your way around the site. You get to play bingo and at the same time get a feel for the playing experience. And of course if you win you get to play a lot more. If you don't like the idea behind the deposit bonus you can find a site with a no deposit bingo bonus and play for free and get the hang of it all. The down side to this kind of bonus is that the winnings from any of the no deposit bonuses is very often a small sum, and most likely a deposit will have to be made before you can withdraw any winnings. And there's always a wagering requirement. The main thing is to realise that all offers have restrictions and you should read the small print very carefully.
Newbie rooms with Great Prizes
Another bingo bonus incentive for new players used by the top sites, is the exclusively new player rooms. For a limited time new players are allowed to play free bingo for some very attractive prizes. William Hill runs the arrivals Lounge for 8 days, with the chance to win up to £3000. Gala's version is the Newbies Room for 7 days, with a total of £10 000 available to win.
You have Joined the Bingo Community – How do they Keep You Playing?
In a very competitive market, bingo sites have managed to come up with some great promotions to gain new players. Their next priority is to hold on to those players and keep them happy. More sites are now offering additional reload bonuses to retain customers, these can be a bit sporadic for some but on others it's every deposit. A referral bonus is offered by some when you refer a friend or family member to the site. Loyalty bonuses can take the form of a points system for every time you deposit or play a game. Once these points reach a certain level a bonus is paid. Along with these bonuses there are multitudes of promotions both regular and one off.
Everybody Loves a BOGOF
A marketing tool used by so many retailers is also used by a lot of online bingo sites now. Buy one get one free in the bingo world is often offered as say, buy 6 tickets for a game and get 3 free. So not quite one for one, but along these lines. Gala however do run a true BOGOF with their Majestic Monday promotion. In the Royal room on all games except High 5, Rollerball and Battle of the clubs. Run every Monday, this is one of the best online bingo offers. One ticket gets you two, and they even throw in an extra feature each game.
A Guaranteed Jackpot, Yes Please – Can't Lose Games, Bring It On. Are These The Best Online Bingo Offers?
Many see this idea as the best bingo bonus. A guaranteed jackpot game has a pre-determined prize pool regardless of how many players buy tickets. Great if only a few people play, but it can work in the favour of the site if a lot more tickets are sold. The no lose promotions come in a few guises. The community jackpot is a game that splits the prize pool giving the majority to the winner, and spreading the rest among the losers usually on a per ticket basis.
A typical scenario is for example a prize pool of £3000. Three players have tickets, player one bought 25 tickets and won the jackpot, player two bought 50 tickets and didn't win, player three bought 100 tickets and didn't win. Player three gets twice as much as player two from the losers share, because he had twice as many tickets. Very often though there are so many players in these types of games that the return on each ticket for losers is a fraction of the purchase price. And more than likely it will be paid in bingo bonus. The Dragonfish network runs two games per month with this format. Another no lose promotion is where a game is played with the losers getting a refund of the ticket price in bingo bonus funds. Kitty bingo and sister sites run this type of online bingo bonus once a week. Another variation is run by Virtue Fusion network, where losers get a ticket for another game or scratchcard.
Win a Holiday, Win a Car in Fixed Prize Games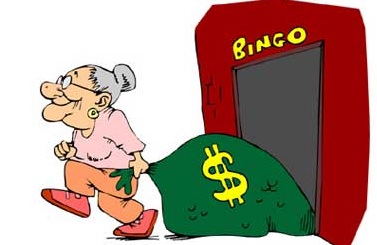 A prize bingo game has a physical prize such as vouchers for designer clothes, a luxury holiday, one even had a car as the jackpot. These prizes can be very tempting, and are worth winning. They attract a lot of players. So much so that the prize can be worth less than the normal jackpot would be, if worked out the usual way. Gala bingo offer some of the best online bingo offers in this area, because their prizes often can't be bought. For example a VIP tour of the Coronation Street Set, or an invite to their Christmas Party.
Shop Around To Find the Best Online Bingo Offers
Every site online has promotions and bonuses, some exclusive and some network based. It pays to take some time to look at what is available. Read the terms and conditions, and workout if they are really worth playing. All come with some form of clause but that shouldn't put you off. Just make sure you understand before you commit to play. Above all remember bingo is meant to be fun, so take advantage of the myriad of offers out there and enjoy your game.
Was the information useful?