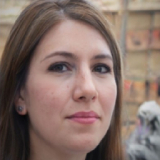 Hi, my name is Catherine, but everyone calls me Kat. I'm an accountant by profession, and I live in London with my hubby, two daughters, and our Beagle Bella who fully lives up to her breed name meaning "loudmouth" in French.
My earliest memory associated with bingo, as I'm sure most of you can relate, is from family holidays at Butlin's. Even though I'd played at occasional charity events, it wasn't until I had my twins that I rediscovered bingo and more specifically, the social aspect and game variants of online bingo.
By that time, I'd started working from home, and I have to admit, after a day of endless "Frozen" reruns and crunching numbers, getting my bingo fix and having a chat with the other players without having to leave my house or deal with social media was just the thing I needed.
My interest in bingo is not strictly confined to the online rooms, however. Over the past couple of years, I've been hosting regular charity bingo events to raise money and awareness for our local animal shelter, helping adorable moggies find new loving homes. I also enjoy drawing different bingo cards for our family fun activities that my kids absolutely love. We even managed to move house almost hassle-free thanks to my move bingo cards.
I am particularly invested in promoting responsible gambling as I believe bingo should be enjoyed as a fun social activity without detrimental effects. On this blog, I put together most of the bingo guides to rules, responsible play, and event organising, as well as the fun trivia pieces that I hope you find helpful and entertaining.
However, I also hugely enjoy puzzles of all kinds, from jigsaw puzzles to online logic games. There is nearly always some country music playing in my house and I just can't get enough of Dolly Parton's song "Jolene". I am also a huge admirer of Betty White, whose charm, humour, and sheer longevity were all a marvel to behold.

My husband and I live in London with our three pet rabbits (named Dabber, Caller, and Jacky) and we all try to live guided by my personal catchphrase, "Life is a game of bingo, you never know what you're going to get", but whether it's a full house or a complete bust, the game is always worth playing".
Expertise: bingo and casino news, special offers huntsman