The World is Mobile – And so is Bingo
The mobile tech scene has exploded, only a few years ago the only interaction with the internet on the go was email. Now, well there isn't much you can't do from a mobile device. Hardware just keeps getting better, and so naturally the software has to keep up. One of the biggest areas that has grown is gaming, and mobile bingo is now building momentum.
How does Mobile Bingo Work?
There are two ways mobile bingo is provided. You either need to download an app to play, or the site is already mobile friendly and you just play as normal. The only real difference between the app version and the browser site is the app will load direct and you are straight into play, but most only have a limited number of games to play. With the browser version, the actual playing experience is much the same, with some having a lot if not all of the same rooms available. If you already have an account you can log in and play on the mobile version straight away. The main thing missing on a lot of mobile sites is that the chat facility is either missing or difficult to use. This is an issue that is being addressed, as the social aspect of bingo is a core reason a lot of people play.
When bingo first appeared online websites were mainly built using Flash. While this gave a good playing experience on a PC, for modern mobile devices it's all but useless. Touchscreen devices hate it and Apple have never supported it. With more and more people wanting to play on the go things had to change. Software developers got busy and mobile apps started to appear as free downloads on the major sites. This worked very well for the iOS devices but Android had problems. Google does not allow real money apps in the play store so you would have to change security settings to download an Android app, which nobody wanted to do. All modern apps are now written in HTML5 and badged as iOS or Android, and as such work on both types of devices. All the major sites are pushing their software providers to convert their sites to HTML5, so that it is no longer necessary to have separate apps. These new sites detect the size of your screen and then load the correct version for you. This means that most, if not all of the game,s will be available on mobiles as well as your PC, and some have mobile exclusive games and promotions.
Top 6 Mobile Apps
.
* T&C's apply - 18+, click PLAY NOW for details
Not All Mobiles Are iOS or Android. What About Us Blackberry and Windows Users?
Unfortunately for some the mobile world seems to be all about iOS or Android. If you own a Blackberry or a Windows Phone OS device you may feel a little left out. Mobile bingo sites on the whole don't support these devices with apps. Even some of the top names in the online bingo world have excluded this share of the market. There are however, some sites that do cater for the smaller share of mobile users, with either apps or with sites they claim are compatible with all devices via their browsers. Playing bingo on a Blackberry however does have one obvious draw back. The small size of the screen can make playing difficult. Those of you with mobiles running Windows Phone OS will have an even harder time playing on the usual mobile bingo sites, and will need to hunt around for a good one. When you do get to play on a Windows phone, the experience is great. The screen size on most devices using this OS is large and gives a good game.
A Few Examples of Good Mobile Sites
Tombola Mobile Bingo offers a great selection of games and claim to be compatible with most smartphones and tablets on the market. They also have the option to download apps for iOS and Android. Most Dragonfish and all Cozy sites run apps for Android and iOS. Mecca supports a number of devices including Blackberry, Android, iOS and WAP and have downloadable apps for Android and iOS. Mobile Bingo are Android and iOS but say they work with 'other mobile devices'. A review tested a Motorola and if that works most will!
At the moment generally anything running iOS seems to be the most catered for. The apps work very well on most sites, and you usually get to play a large selection of games. Android comes in next with a slightly less polished feel to the apps, but still very playable. While there are a lot less apps compatible with the Blackberry they do get favorable reviews. Windows OS is gathering momentum in the market, and mobile bingo is taking note. More and more are being developed to cover them as well. These apps that work with Windows work very well and the gameplay is very good in fact.
HTML5 Is the Future for All Mobile Sites
Compatibility has been an issue from the outset of mobile bingo. With too much time and resources going into supporting just a couple of the main player's, development lagged in the area. In a highly competitive industry any edge has to be used. So at last the major software developers are concentrating their efforts on making browser sites compatible with all mobile devices, even the less used ones like KindleFire. They are making this happen with HTML5, a coding system that is able to read the device that logs in and loads a suitable version for that screen size and OS. It is taking a while but it will be the norm very soon. So if you have a Blackberry or Windows phone keep checking, because things are changing. In the meantime there are a lot of playable mobile sites out there that give a good game and are trustworthy, just not as many.
Is Connectivity and Runtime Still a Problem With Mobile Bingo Sites?
Remember the days you were playing a game on a mobile and it was slow and unresponsive? Yes you do don't you, we all do. But we all know that mobile phones and tablets are constantly evolving with faster and faster processers and far bigger memories. There are phones out there now that have the same specs that laptops had not that long ago. So the answer is not anymore. Runtime and playability in the world of mobile bingo is not an issue. All reputable sites are super-fast and run smoothly whether it is an app or browser based site. 3G and 4G have moved the goalposts as far as connectivity is concerned. If you have a signal and the data package you have is good, uninterrupted play is the norm now. And as all smartphones and tablets these days are Wi-Fi, you can use it where available and it's as good as your PC at home. With broadband set to be almost total coverage in the UK, connectivity and speed issues will be resigned to the history books.
Am I Safe Playing Bingo on My Mobile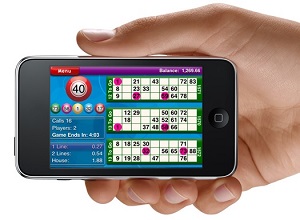 There have been some security concerns surrounding some sites that have HTML5 mobile friendly sites. Some sites (quite a few Cozy Games and some Virtue Fusion networks) have secure browsing the whole time you are logged in. Excellent, you are protected. However some sites have an auto-switch to secure browsing when you want to deposit funds (Dragonfish). Your money is safe but the problems can start if you are using an unprotected Wi-Fi like in a coffee shop. Your login details are not safe. All the reputable sites like Wink Bingo and bet365 have strict verification procedures when it comes to getting money out, so your funds should be safe, and not be able to be withdrawn. But your balance can be wasted by someone who has your login details. And if you use the same password for other things online, big trouble awaits you! Playing from an app has no such issues as you will log in via the app. The way to be safe is check with the site, and if they use unsecure browsing, then the safest way is to use your devices connection as opposed to public Wi-Fi.
The Only Way Is Up For Mobile Bingo
We love our mobiles they are so much a part of our lives, that to even imagine them gone is horrific. The next generation are heading for an even bigger wave of mobile usage. Bingo is finally starting to catch up, and it's looking like the future for mobile bingo is very rosy indeed. Mobile devices will keep on improving, there will be no compatibility issues, and the games will just get better and better.
Was the information useful?