Your Very Own Virtual Mastercard to use at UK ecoCard Bingo Sites
If you're looking for a safe and secure way to make deposits and withdraw your winnings from your latest online bingo experience you might be considering taking advantage of one of several payment options offered by many bingo sites. One of them is called an ecoCard, and is a virtual payment card that can be used for both making a deposit and requesting a withdrawal from many online bingo sites.
EcoCards have been around for a number of years now, but aren't quite as popular as they once were. Which is possibly due to the number of other payment options that are available for online bingo players. There has been some recent restructuring and rebranding from the company responsible for ecoCards. The parent company is called EcoPayz, of which ecoCard is one of their most important brands, along with EcoVirtualcard.
32Red Bingo

EcoPayz is One of the many ways to purchase chips at 32Red

Secure Payments with EcoPayz
Free Deposits and Withdrawals.
Instant Processing

Get £5 Free
#AD, T&C Apply
What is an ecoCard?
An ecoCard is very similar to EntroPay. They are both virtual cards that can be used to pay for services and purchases bought online. They are also very popular payment methods for online gambling sites and online ecoCard bingo sites.
EcoCards are a widely accepted way to deposit funds into your bingo account and setting it up is quick and simple. There are no credit checks involved, and you don't have to worry about overspending. You can only spend what you've funded your account with so you don't need to worry about losing the shirt on your back.
EcoCards were introduced in 2000 by the PSI-Pay company. This company is based in London, which means it falls under the regulation of the UK's Financial Services Authority. This authority ensures they are fully audited as an approved electronic money issuer. The UK's Financial Conduct Authority has also authorised it to conduct business across Europe.
When you open an ecoAccount you are given an online wallet that can be used to send and receive money as well as a virtual Mastercard. Like any other Mastercard it has a 16 digit number, a security card and an expiry date. Anywhere Mastercard is accepted it can be used to make deposits, purchases or to receive your bingo winnings.
How does an ecoCard work?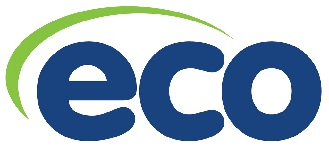 Using an ecoCard at bingo sites means you don't have to input personal financial details, which gives you peace of mind. The card acts as an intermediary between a player's debit card or bank account and any online companies they might choose to do business with.
The first step is to open an ecoAccount by visiting their website, or downloading their app. Once you've provided the basic details required you need to register a card to your account. Doing this as soon as possible will help to verify your identity which will allow you access to all features and lower various transaction fees. You can place funds into your ecoAccount using a registered card, bank wire or EFT (electronic funds transfer) if you reside in Canada. Some other countries allow a UPay cash transfer.
Now you have a funded account you can start to make deposits at bingo sites that accept ecoCards as one of their payment methods. Wondering exactly which bingo sites ecoCards are accepted at? We'll be mentioning the best of them on one of our other pages.
If you're lucky enough to have a modicum of success with your bingo playing a withdrawal from your bingo account back to your ecoCard account can be requested.
Is an ecoCard safe and secure?
Using an ecoCard as a payment method is a very safe way to pay for games at ecoCard bingo sites. PSI-Pay, the parent company is a UK licensed e-money provider that's regulated by the FSA (Financial Services Authority). As such you can consider them highly reputable and well regulated. The company itself has been operating for more than six years now and are experts in global online payment solutions.
The reputation of this e-money provider is impeccable and they are well-known globally for the effective and reliable service provided. It's quick and easy to register for an account and placing funds in or taking them out of an ecoAccount is simple. There are lots of ways to place funds into your account, that don't necessarily require an actual bank account.
There are an increasing number of modernized bingo operators that now accept ecoCard payments because it has become such a popular method of payment for bingo lovers.
The main benefit of using an ecoCard is that your personal financial information doesn't need to be used. Your personal debit card or bank account information is kept safe from prying eyes.
You'll be pleased to know that many ecoCard bingo sites in the UK offer great bonuses for this preferred deposit method, sometimes as much as 250%. Residents in the USA aren't able to use an ecoCard but there are still plenty of other ways to pay.
Bingo Sites by Payments Methods
Was the information useful?