Small Fees and Fast Transactions at Skrill Bingo Sites UK
Top Skrill Bingo Sites
* T&C's apply - 18+; Click on PLAY NOW for details;
Skrill is a digital payment provider based in London, UK. It was originally known as Moneybookers, but in 2011 was rebranded as Skrill.
What is Skrill?
Previously known as MoneyBookers, Skrill is an online eWallet, much the same as PayPal and NETeller. It's used to store money online and can be used to make deposits and request withdrawals to and from Skrill bingo sites. It can also be used at other online gambling websites and retailers. Another use is to send cash to and from friends and family.
We've already mentioned that it used to be known as Moneybookers but took on its present persona in September 2011. The company decided it needed an image overhaul, that included changing the way they do business, as well as their name. Skrill was chosen because of its slang/urban definition. Skrill or Skrilla is another name for cash in hip-hop circles.
How Skrill works
The first step, as with many online payment services, is to visit the company website, and sign up for an account. You'll need to provide some personal details in order for your account to be verified. There are 3 possible alternatives:
Credit card verification
Bank account verification
Physical address verification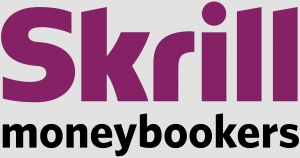 As you make your way through the 3 verification methods you increase your transfer limits. Skrill users that complete all three will have the highest transfer limits.
You can make deposits at many online bingo sites using Skrill, as well as online casinos, sport-betting sites, poker sites and other online merchants. Hit the big prizes while playing bingo and you don't have to worry about transferring your winnings into a bank account. You can shop online using your Skrill balance. Transferring winnings into a Skrill account is easy. Opt for Skrill when required as your cash-out method via the bingo sites cashier screen. It's that simple.
Is Skrill a safe payment method?
Skrill is a bona fide publically traded company and is listed on the London Stock Exchange. It's also regulated by the Financial Services Authority in the UK. They were in fact the first payment processor to get an internet licence. There is complete peace of mind as the latest technology and software is used to fight any possible threats to the security of financial information.
Skrill is registered to operate as a Money Service Business and licensed within the European Union. Because the service is regulated by the FSA, Skrill is held to a very high standard. One standard states that Skrill must have more than 100% of its customer's funds on hand. So for bingo players, this means that their funds will always be accessible, and there is no worry about money going down with a sinking ship.
Several awards have been won by Skrill (Moneybookers) between 2009 and 2013 including FST Employee's Choice, Sunday Times, Media Momentum and the iGB Affiliate Award.
We think it's safe to say that Skrill is known to be one of the best online payment processors in the world today. And if you're looking for bingo sites that accept Skrill as a payment method you won't be disappointed with the choice.
How much it'll cost to use Skrill as a payment method
Skrill isn't a charitable concern, they're in business to make money, so of course there will be fees and charges involved. There are usually no fees charged by the bingo site to use Skrill as a withdrawal method, but there will be a fee to take your winnings out of your Skrill account. The charge levied by Skrill is 1.80 EUR. Not too expensive when compared with NETeller that charges 7.5 EUR to process withdrawals. However, it's not as good value as PayPal which offers withdrawals free of charge.
Many online bingo sites are available around the world, which means that several different currencies may be used. There is however, a charge for converting currency before sending or receiving it from an online bingo site. Skrill charges are the lowest at just 1.99%.
Pros and cons of using Skrill when playing bingo
As with most things in today's modern world there are good and bad reasons for using Skrill as a payment method at bingo sites.
It provides secure servers so you can be confident your card details are safe. You are able to instantly transfer cash into and out of your account. You are also able to track your spending and keep an eye on your balance by logging into the website.
The downside is that Skrill isn't available in all countries. In America, for example, it's banned. Unless your located in one of the accepted locations you'll find it very difficult to use. This isn't however, a problem for UK bingo players.
Bingo Sites by Payments Methods
Was the information useful?