Comedian Amy Webber Wins Dabbers' Bingo Calling Competition
Published:

July 13, 2023

Author:

Mike Bennett
We've prepared a new bingo insight from the bingo world! Earlier this month, on July 2, 2023, Dabbers Social Bingo held the final round of its annual competition, "Next Top Bingo Caller 2023". Initially starting with 20 competitors, the competition was narrowed down to the top four, all hoping to win the prestigious title along with a £1,000 cash prize and a year-long contract as Dabbers' resident bingo caller.
There was also a prize for the runner-up. They received a year's-supply of Malibu thanks to the brand's sponsorship of the competition.
Most people think of bingo as a game either for young children or as a social activity for the elderly. However, rarely as a pastime for the in-between demographic. This is where Dabbers steps in, targeting everyone from people in their twenties to those in their fifties by reinventing the game as an engaging and fun-filled night out, rather than a sedate activity.
An Evening Full of Entertainment
Established in 2018 and located in Houndsditch, Dabbers has revolutionised the concept of modern bingo, transforming the conventional bingo experience into something more vibrant and exciting that attracts an entirely different audience. The event was a vibrant affair that was also a celebration of the LGBTQ+ community with an array of high-energy performers, comedians, drag queens, and endless dancing and drinks, making it an entertaining evening for anyone above the age of 18.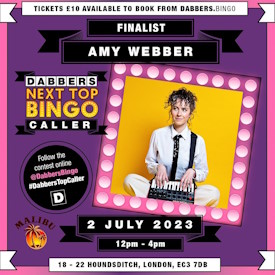 Attendees were treated to a DJ playing classic party hits like Spice Girls' 'Spice Up Your Life' and Rednex's 'Cotton Eyed Joe', entertainingly humorous bingo callers, multiple rounds of bingo with unusual prizes, and a constant supply of cocktails and tacos directly delivered to their tables, all orderable through Dabbers' app. This reminds us that this is also a great place to celebrate National Taco Day.
This was the third year in a row of Dabbers holding the competition, with the winner chosen by the audience while the judges had their own pick. Among those on the judges' panel were Miles Baron, CEO of the Bingo Association, Kate Daughton, former Head of Comedy at the BBC and co-founder of Boffola Pictures, and Hannah Byczkowski of The Traitors (BBC, 2023), a seasoned comedian familiar with competition wins.
The competition culminated with comedian Amy Webber claiming victory and securing the 12-month contract with Dabbers. Ric O'Brac clinched the runner-up spot, winning the Malibu sponsorship.
Adding to the festivities, stand-up comedian Jerry Bakewell, who humorously brands himself as 'Britain's most unsuccessful Mexican wrestler', made a special appearance at the event, presenting the Malibu sash to runner-up Ric O'Brac.
A Winning Performance
Webber charmed the crowd with her unique musical-comedy act. Her performance brought together comedy opera singing, which mixes surprisingly well with bingo calling.
Speaking after her win, Webber said:
"I am absolutely elated. I'm flattered that the audience voted me as the winner. All the finalists were unique and amazing performers, and I still can't believe it was me who won. I'll be putting the money towards performing at Edinburgh Fringe this August. It's my first time going up and taking my own show so I'm pretty nervous about it – having this financial help is a fantastic and unexpected windfall."
While studying opera at University, Webber realised that she could combine her love of the opera with a more modern approach in order to make people laugh. This led to her, at the age of 27, creating her musical comedy act.
Besides performing comedy and bingo calling, Webber also works as a singing teacher, teaching children with educational songs. In the past Amy has said that she relishes the chance to "be in charge of organised chaos" in the bingo halls and that the skills she needs when teaching small children are similar to those that she uses when bingo calling at Dabbers.