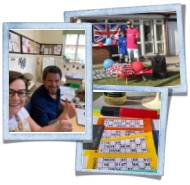 It's true to say that a lot of everyday activities have ceased for people around the world since the threat of coronavirus became a serious issue. Within the United Kingdom, a lockdown was brought into effect on March 20, and this saw pubs, restaurants, clubs, gyms, and more shut their doors to the general public. Gambling establishments like casinos and bingo halls were also ordered to shut up shop, leading to masses of buildings throughout the country having their doors shuttered up.
So, how do people keep themselves busy and entertained during this lockdown? And when are non-essential shops, including bingo halls and the like, going to be re-opening throughout the United Kingdom?
For the moment, while certain restrictions in the UK have been lifted, it remains the case that gambling establishments are closed to the public. As of now, the only non-essential businesses and venues that may remain open and operating are burial grounds, providers of funeral services, outdoor sports courts, parks and other beauty spots, recycling centres, and beaches. These restrictions will remain in operation until at least June 1.
This doesn't mean that bingo halls will re-open from that date, as the government will need to do a review of the COVID-19 situation within the UK beforehand. However, there has been talk of phase three coming into effect from July 4, which will see some of the remaining business and premises in the country re-open, like hairdressers, pubs, accommodation, and leisure facilities.
How Have People Been Keeping Themselves Occupied During the Pandemic?
Naturally, the closure of such gambling establishments has caused issues for many operators and players. It has sent many people to the online gambling sphere instead, while operators have had to turn to the government's coronavirus furlough scheme to be able to protect thousands of UK workers. This scheme was recently extended to October 2020, and it currently sees the government pay 80% of workers' wages, up to £2,500 per month. After the end of July, some minor changes will be introduced to that, requiring businesses to contribute some money to their employees' salaries.
Of course, the British public have been seeking out other ways of entertaining themselves while the country is in lockdown. Communities across Wales, for example, have been rallying together to get shopping for neighbours who aren't able to venture out, and even while adhering to social distancing rules, some are dancing and singing in the streets together.
Something else that has been undertaken by UK citizens is participating in lockdown bingo. This has seen a number of people set up video chats through various conferencing apps, with one player calling the numbers as they're drawn and others marking them off bingo cards in a large video call. Yet, others have played bingo in their streets and from within their cars, too!
Online bingo and other gambling options, in general, have seen a spike in the number of people participating in such. Some people have also turned to online casino gaming and bingo possibilities from their usual sports betting haunts, considering that many of the world's largest sporting events have been postponed or completely cancelled.