Entain, one of the largest gambling operators in the UK, recently announced the launch of a unique multiplayer bingo game, Slingo Bingo.
The game was developed under a licensing agreement with Gaming Realms, the company behind the popular Slingo games that combine elements of slots and bingo, and it is available exclusively to UK players at Entain bingo sites such as Foxy Bingo, Gala Bingo, and Ladbrokes.
The game comes as Entain's Gala Bingo continues to go from strength to strength with the site recently announcing a 20% increase in active UK players.
Gaming Realms' Slingo games are already hugely popular with players at the various Entain brands and Slingo games already make up half of the top ten most popular games at Gala Bingo.
Speaking when the game was announced, Satty Bhens, Chief Product Officer at Entain, said:
"We're seeing more and more customers come to us to play bingo, and these customers are always looking for the best online gaming experiences. All our customers in the UK will be excited to see one of their favourite brands brought to life in a bingo variant, with the launch of Slingo Bingo reaffirming Entain as the home of innovation, excitement, and fun."
Similarly, Gareth Scott, Chief Commercial Officer at Gaming Realms, said:
"Convergence and licensing partnerships are at the heart of what makes the Slingo genre so successful, therefore partnering with Entain to create Slingo Bingo is a milestone moment for us all here at Gaming Realms. This is a great opportunity for Gaming Realms to introduce Slingo to new audiences and grow brand equity."
The Slingo Bingo Game
The Slingo Bingo game is a 75-ball bingo game that has an exciting slots twist. The tickets feature a 5×5 grid and players cross off the numbers as they are drawn, just like in a regular bingo game. The more lines that a player completes on a ticket, the higher they climb on the pay table.
Those who would like the chance to win more should be sure to visit their favourite Entain bingo sites on Friday evenings. From 20:04 until 20:59, the Slingo Bingo room gives players the chance to win double prizes.
Don't worry if you can't make it at that time; it is possible to purchase tickets up to 7 days in advance, so you can still give yourself the chance to win. Tickets for the new game cost between £0.20 and £2, depending on the game.
Other Exciting Slingo Games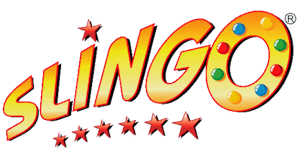 In addition to the Slingo Bingo room, those who are members of an Entain bingo site can enjoy a huge number of Slingo games. There are all kinds of themes to explore, so there should be something for every taste.
For example, those who enjoy television shows may want to try their luck playing The Chase Slingo, Deal or No Deal Slingo, Who Wants to Be a Millionaire Slingo, or The X Factor Slingo. While all the games are based upon the same principle, the bonus features, graphics, and sound effects, bring the individual themes to life and make them truly engaging and exciting.
Other Slingo titles are based upon popular slots, such as Starburst Slingo, Pirate's Treasure Slingo, Rainbow Riches Slingo, and Cleopatra Slingo. There are also games with sporting themes, nature, and much more.
If you've never played Slingo games before, you should be able to pick it up very quickly. They work a lot like any video bingo game; balls are drawn and numbers are marked off a grid. Beyond that, each game is different, some may have special wild balls, others may have multipliers, and there are even games that incorporate entire slot machines into the bonus features.
If you are looking for something different to play, then why not try your luck in the Slingo Bingo room or playing one of these games. Who knows? You could be the next winner of a huge Slingo prize.