Foxy Bingo Pushes the Boat Out with Livestream of Live Stream
Published:

October 31, 2023

Author:

Mike Bennett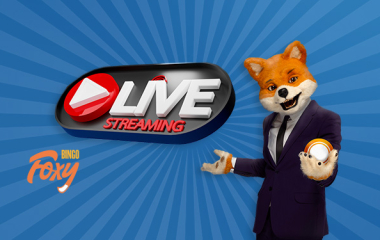 A few days ago, on Sunday, 29th October, Foxy Bingo Livestream promo was introduced, which saw it run the world's first Instagram Livestream of a live stream.
The promotion was extensively advertised in the week leading up to the livestream and it seems to have been a great success. When the stream went live, a number of bingo-themed objects floated down the stream, including two disco ball ducks, a garden gate, a Foxy Bingo Boomfox music player, a real-life 'Mer-Hunk', and a Sea Shanty band.
Most excitingly, there was a Golden Bingo Ball, which gave participants the chance to win £20,000. All viewers had to do was take a screenshot of the ball as it floated past and post it to their Instagram story with the tag @foxybingo and they would have been entered into the prize draw.
The event was hosted by influencer and reality TV star Charlotte Dawson and she provided entertaining commentary throughout while interacting with people in the Livestream's chat.
If you're a fan of online bingo sites, this innovative promotion was one to remember.
More Livestreamed Games
The Golden Bingo Ball wasn't the only way that viewers could win prizes. For example, there was a "5 In a Row" game. If viewers spotted the same item floating down the stream five times in a row and commented in the chat, then they may have won a Boomfox, a Velour Tracksuit or a Garden Gate.
Furthermore, during the streams, a variety of items representing bingo calls floated past. Those who spotted them and correctly commented on the number that corresponds to the item could have won a Christmas cake, a Foxy manicure or a washing machine.
Finally, during the stream, items will have floated past that provided clues as to the stream's whereabouts. Those who guessed the location correctly were entered into a prize draw for the chance to win a spa treatment.
Many More Bingo Promos at Foxy Bingo
Don't worry if you missed Foxy Bingo's Livestream of a live stream. There are many more exciting promotions available on the website. For example, today, in honour of Halloween, the site is running Jumping Jack Bingo and giving players a chance to win cash prizes of up to £1,000. The games are running from 20:30 to 23:15 and tickets cost between 1p and 10p in the Foxy Fortunes room.
Alternatively, you could take advantage of the Battle Royale Bingo promotion. It essentially inverts the game of bingo and you must have one of the last three uncalled numbers to win a cash prize. If your number is the last to be called, then you win the top prize. Games take place around the clock and the tickets range from 10p to 50p.
The game is simple to play. Players choose between 1 and 3 numbers per game from a range of 90 numbers. Random numbers are called and if the called number matches a purchased number, then the number is eliminated. The last player with a number that hasn't been called wins the game.
Excitingly, free bingo games will take place every 6 minutes with prizes of up to £5 up for grabs. If you enjoy playing slots as well, then you may want to check out Foxy Bingo's Foxy Freebies promo.
You can play on a special Halloween-themed pinball machine to win cash and free spins. All you have to do is select your ball speed and then click on 'Play'. You can control the machine's flippers using the left/right buttons, both on desktop and mobile. Prizes on offer include free spins on the slot Witches: Cash Collect as well as cash prizes of £0.50.
The Wacky World of Bingo Promotions
Foxy Bingo Livestream promo of a live stream may have been the first of its kind, but it is by no means the only slightly crazy bingo promotion to have taken place. New opportunities for players are appearing all of the time, so be sure to keep a close eye on the promotions at Foxy Bingo and your other favourite online bingo sites.