Levo Chan Sentenced to 14 Years for Illegal Macau Gambling Operations
Published:

May 17, 2023

Author:

Mike Bennett
Last month saw Levo Chan, the former CEO of the Macau junket Tak Chun Group, sentenced to 14 years in prison by a Macau court.
He was found guilty on all counts after a trial that lasted more than four months. The charges included 24 counts of illegal gambling in a licensed area, 7 counts of substantial fraud, 1 count of illegal gambling and 1 count of aggravated money laundering.
After the return of the guilty verdict, Chan was sentenced to 10 years for criminal association, a year for each of the 24 counts of illegal gambling, 6 years for each of the 7 counts of substantial fraud, 1.5 years for illegal gambling, and 5 years for aggravated money laundering.
Taken separately this totals 82.5 years. However, due to local laws regarding how punishments for multiple crimes are combined, the judge decided that he should spend 14 years in prison.
Four of Nine Defendants Sentenced to Prison
In addition to Chan, the case also involved Wong Pui Keng, Cheong Sao Pek, Lio Weng Hang, Chan Kam Chi, Lee Tat Chuen, Choi Wai Chan, Li Manxing and Tan Guichang. Of them, Wong Pui Keng, Cheong Sao Pek, Lio Weng Hang and Lee Tat Chuen were sentenced to 10 years, 10 years, 11 years and 7 years in prison, respectively. The others were all acquitted.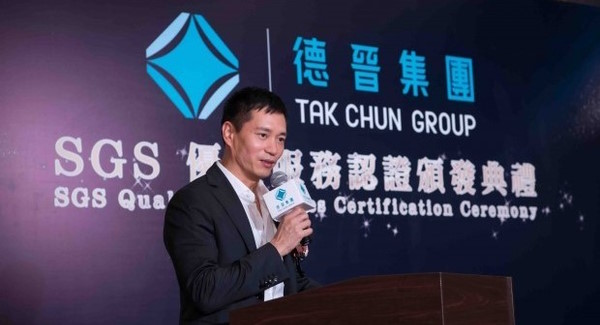 In addition to the prison sentence, the Macau government has ordered that Chan and others pay MOP$570 million (US$70.5 million) in compensation.
The compensation will be paid to five concessionaires who worked with Tak Chun in the past, Galaxy Entertainment Group, MGM China, Sands China, SJM and Wynn Macau. Together, the five were seeking compensation of MOP$204 million (US$25.3 million). Broken down, Galaxy sought MOP$81.2 million (US$10 million), Wynn sought MOP$36.8 million (US$4.6 million), Sands sought MOP$47.0 million (US$5.8 million), SJM sought MOP$35.7 million (US$4.4 million) and MGM sought MOP$3.8 million (US$474,000).
Judge Finds Chan Guilty of Betting Under the Table
Speaking in court, the judge said that Tak Chun had been taking part in "betting under the table" activities in VIP rooms in Macau's casinos:
"Computer evidence showed that Tak Chun had recorded the activities of the betting under the table companies at Tak Chun and that they promoted betting under the table games to their customers. Some of the persons from the betting under the table companies were present at the Tak Chun Group (VIP lounge), conducted betting under the table for players and recorded information on [these activities]."
The court noted that Chan had received at least MOP$1.5 billion (US$186 million) in illegal proceeds from the betting under the table activities. Furthermore, the court determined that the concessionaires and the government lost money due to the betting under the table activities, as it concealed the actual turnover.
The court also noted that in relation to internet betting and telephone betting (which are considered illegal gambling offences), witness evidence and computer records revealed that the Tak Chun Group had close links with telephone betting companies and extensive telephone betting records and customer details were found on the Group's computers.
In relation to aggravated money laundering, the court concluded that there was strong evidence that Chan used Tak Chun's accounts to disguise the source of money and then transferred some of the funds to his personal bank account, and in doing so broke money-laundering laws.
Finally, in regards to the triad offence, the court ruled that Chan formed and led a criminal syndicate with the aim of carrying out unlawful acts such as telephone betting and betting under the table, which are triad offences.
Chan became the second former head of a Macau junket to be sent to prison this year. In January, Suncity's Alvin Chau was sentenced to 18 years for a similar set of charges.