Video King, a gaming company based in Nebraska that specialises in electronic gaming products, formed its first Managed Services Agreement in California with the operator of Jamul Casino, the Jamul Indian Village Development Corporation. The deal enabled Video King to roll out its products to all facilities on tribal lands including casinos, hotels, and restaurants.
Video King was founded in 1993 and today it is recognised as a leader in the electronic gaming industry. It provides several different types of product including tablets, handheld, and fixed-base devices, digital flashboards, and bingo consoles. Each product is carefully designed to enhance player enjoyment and engagement, thereby increasing the profitability of gaming enterprises.

The Jamul Casino is a Native American gambling enterprise located on the 6-acre reservation of the Jamul Indian Village in California. President and General Manager Mary Cheeks run the casino and it houses 1,700 slot machines and 40 table games. With downtown San Diego just 20 miles away, it has a steady customer base throughout the year. Currently, amongst many things, Video King is one of the software providers in some of the best bingo sites on the market.
Deal Brings Bingo to Jamul Casino
Speaking when the deal was signed, Rusty Morin, the VP of Video King, said:
"We are thrilled to partner with Jamul Casino to launch our Class II Certified Bingo Game. Bingo Treasures™ features all of the traditional bingo game elements that bingo players will love, including the ability to pick their own numbers, play for a common game-ending pattern on a 5×5 bingo card and have an opportunity to win in every game. We expect that our addition of multi-million-dollar weekly jackpots will accelerate the growth of Bingo Treasures™ as a nationally linked Class II bingo product. This will allow Indian Country to finally host and offer to players life-changing jackpots, which can compete for dollars players are currently spending on lottery type products."
The deal was also celebrated by Jamul Casino with Mary Cheeks, the President and General Manager, saying:
"Jamul Casino is thrilled to be the first California Tribal Casino to partner with Video King for Bingo Treasures™, and we are excited to introduce the game at Jamul Casino. We are also delighted to be a host for the live weekly ball draws, which we intend to make very entertaining when we launch."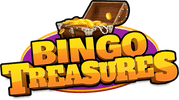 The game Bingo Treasures is a two-party Class II bingo game. Players can purchase their tickets and they will have two chances to win a life-changing jackpot. A two-player bingo game then begins and the first player to form the letter X bingo pattern wins. The prizes range from a free bingo card to a top prize of $250,000 cash. All cards are then entered into the Weekly Millions live linked bingo game where the first player to form the letter X wins a guaranteed prize ranging from a new car to a $2 million jackpot.
Video King's Products to Boost Player Experience
Video King's array of products is truly impressive. For instance, in addition to Bingo Treasures, it has produced several games including video poker, slots, scratch cards and more. However, it's gaming devices are what the company is best known for. These include a number of handsets and tablets that are extremely portable. It also has fixed base units, which are essentially touch screens, as well as kiosks, which offer further functionality.
The company has created a range of products for bingo halls, including drawing machines, flashboards and signs. It has also developed an enhanced bingo management system that can handle a bingo hall's finances, inventory, players, and more.
While there is no bingo hall at Jamul Casino, the integration of many of Video King's products means that visitors to the casino will be offered a more comprehensive gaming experience than ever before.