Buzz Bingo Announces Closure of Nine UK Venues
Published:

May 3, 2023

Author:

Mike Bennett
Last month Buzz Bingo announced that it will be closing nine of its 91 clubs across the UK due to the continually challenging operating environment.
The closure of roughly 10% of its venues is expected to impact 151 staff members. Buzz Bingo employs around 2,500 people in the UK, and the operator has said it is committed to supporting them at "this difficult time".
Closures Across the UK
There will be closures right across the UK, including venues in Surrey Quays and Slough in London, as well the Belle Vue location in Manchester. There are also closures planned for Carlisle, Birkenhead, West Yorkshire, the Wirral and Dumfries (Scotland).
Buzz Bingo released a statement explaining that the business is facing a number of challenges following the coronavirus pandemic, as are many other businesses in the leisure and hospitality industry:
"Like many, Buzz Bingo has had to contend with a change in customer behaviour following the pandemic, alongside a loss in consumer confidence due to the rising cost of living and threat of recession."
Not only have the clubs seen a drop in player numbers, with many bingo fans making the move to online bingo, but Buzz Bingo has also been hit by increased energy and operational costs. As such, the operator has said that the nine venues are no longer financially viable.
Speaking at the time, Buzz Bingo's Chief Executive, Dominic Mansour, said:
"These closures will, very sadly, impact a number of our colleagues, and so our priority is to support all those affected and to do everything we can to minimise job losses.  I personally want to thank them for their commitment and service to Buzz. Believe me, no one wants to make the call to close Clubs. However, it is my belief that it's these decisions that will allow us to restructure the business for long-term growth and to protect the livelihoods of our colleagues for the long run."
Post-COVID Challenges
As mentioned, Buzz Bingo has been facing a number of challenges since the coronavirus pandemic. Not long after the pandemic began, in 2020, the operator announced plans to permanently close 26 of its UK bingo halls. The decision was made after the government brought in restrictions on entertainment and hospitality venues, which led to "an unsustainable operating environment for the foreseeable future".
While most restrictions were removed during 2021 and 2022, the company saw an operating loss of £51.9 million in Q2 2022. This was an improvement on the £141.9 million operating loss from the year before, but it showed that more work was required to turn the company's fortunes around.
A Lively Club Scene
Should all nine closures go ahead, there will still be more than 80 Buzz Bingo clubs operating across the UK, and it is clear that a great effort is being made to revive the clubs' fortunes.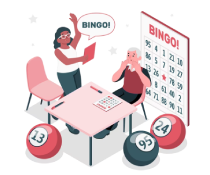 A quick look at the Buzz Bingo website reveals daily special offers at its clubs, with discounts on tickets and food and drink available multiple times every day. There are also several chances to win huge jackpot prizes on a daily basis.
Buzz Bingo also runs several special events at its clubs across the UK. For example, there are BADA Bingo nights, which are huge parties packed with 90s and 00s music and the chance to win special prizes. At present, an ABBA Bingo UK Tour is taking place with themed nights in several of the operator's venues, and tickets are on sale for Bingo Battles in which Grease is pitted against Dirty Dancing in an evening full of bingo, quizzes, and tribute acts.