We all dream of winning a huge jackpot, whether from the National Lottery or playing an online game such as bingo or slots. While very few of us will be lucky enough to do so, some people are. There are a number of stories around of people making a real mess of things after winning a life-changing sum by failing to seek appropriate advice. Here we will cover a few of the dos and don'ts you need to keep in mind if you do become one of the lucky few.
First Steps – Before Claiming Your Winnings
It is hard to imagine how exciting it must be to realise that you have just won a huge jackpot. It must be incredibly difficult not to be carried away in the moment. However, in the case of a National Lottery win, the first thing you must do is ensure that your winning ticket is secure. Make sure that it is somewhere where it cannot be lost or damaged. If that were to happen, it would be a disaster. It is also worth signing the ticket and taking a photo of it.
You must also try to be discreet about your win. While you may want to phone up all your family and friends to share the good news, it is a bad idea. In the UK, winners are allowed to remain anonymous and this is something that you should definitely consider doing. Jackpot winners are often targeted by scammers, thieves, and so on, so maintaining your anonymity is definitely worthwhile.

However, this doesn't mean you can't celebrate with your partner or spouse. You don't have to keep it a complete secret. It is an amazing thing to have happened and it is something that you should definitely be celebrating.
After you have recovered from the initial shock and the celebrations have died down, you should get in contact with the National Lottery or the website you were playing at when you won the jackpot. In the case of an online win, they will normally contact you first, but if they haven't, then you should definitely reach out to customer support.
Once you have confirmed your win, you will also need to consider turning to some professionals for advice. In the UK, you do not have to pay tax on winnings, but it is still worth consulting with an accountant and a tax advisor. They will be able to help you start planning for when you do receive the money and how best to manage it. You may also need to consult with a lawyer and an accountant. Most of us have no idea how to manage huge sums of money and there is no shame in seeking advice.
What to Do After Receiving the Prize
Once you've received the prize money, it is likely that life will never be the same again. Depending on how much you have won, you may have several options. You may dream of leaving work, buying an enormous house, travelling the world, retiring to the Caribbean, playing online bingo around the clock, or anything else.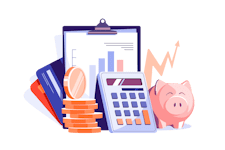 All of these things may be possible, but it is imperative that you first consult your financial advisor. The worst thing would be for you to quit work, spend a few years living in luxury, and then suddenly find that the money has all gone and you need to return to your previous lifestyle.
If you hire a good financial team, then it will be able to ensure that you can maximise the money and your enjoyment. You will most likely want to start by clearing your debts, things such as student loans, mortgage, credit card bills and so on.
There is a good chance that you will want to give some of your money away, perhaps to help a family member clear his/her debts. Some people recommend listing the people you want to give money to. Once word spreads that you have won a jackpot, you are likely to hear from a lot of long-lost relatives and friends, and while there is nothing wrong with being generous, you do have to be careful.
What to Avoid Doing
We've already mentioned that you should probably keep your win a secret if possible. Here are a number of other common mistakes that you should avoid:
Quitting your job too soon – Do not quit until you have at the very least confirmed your prize. It is probably best not to quit until the money is actually in your account.
Making sudden lifestyle changes – If you suddenly drive home in an expensive sports car having never owned a car before, then it is sure to draw unwanted attention to your win.
Revealing the location of your winning ticket – Hide your winning ticket and do not tell anyone where it is, if word gets out, thieves will come looking.
Managing your own money – Unless you are a professional financial advisor, be sure to seek professional advice.
Making impulsive purchases – It is probably best not to go out and buy an aeroplane; don't become carried away with spending.
Enjoy Your Winnings!
Winning a jackpot is a rare and wonderful thing. If you are lucky enough to win one, make sure to enjoy it! While there are many things that you shouldn't do, you should absolutely celebrate and make the most of your good fortune.