The game of bingo has gone through all sorts of changes, adaptations, and unique setups throughout the years. Yet, perhaps not quite as many people are as familiar with Drag Bingo as they are with some others. Of course, many of us know all about the world of drag queens and about the world of bingo as separate entities. But, have you ever considered that the two do merge to make quite the pairing?
Well, if not, we're here to give you some details of Drag Bingo that will surely entertain. And that in itself is a way to describe this gameplay – entertaining.
*18+ T&Cs apply! Click on Get The Bonus for details
A Look Back at Herstory – The Origins of Drag Bingo
Drag Bingo actually has its roots in Seattle, Washington and is thought to have come into operation in the 1990s. As it happens, it became a method of raising capital for charity when Judy Werle brought it to light for the Chicken Soup Brigade – a support organisation for people suffering with AIDS. As then-director of the organisation, Judy explained that she discovered a lot of people gathered and spent money in bingo halls. However, the scene proved to be too boring, despite the fact that many people were quite obsessed with playing the game itself.
It was from this that Judy oversaw the creation of The Sisters of Perpetual Indulgence – a group of drag queens who dressed up as nuns to host bingo games. People came in their hundreds to attend on the very first night, which prompted the charity to instantly schedule more of them. It was this movement that led to individuals from all over gaining an interest in Drag Bingo, and by the noughties, it had become quite the phenomenon.
One example of its lasting popularity is Legendary Bingo that was started twenty years ago as an AIDS fundraiser and remains a pop culture phenomenon in West Hollywood, with a resident drag host Roxy Wood and celebrity guest bingo callers such as Emma Stone, Britney Spears, Sia, Amy Adams, and many more stars from the entertainment industry. Having collected more than $6 million over the years, today the organisers continue to work with various charities to raise funds and awareness for different causes.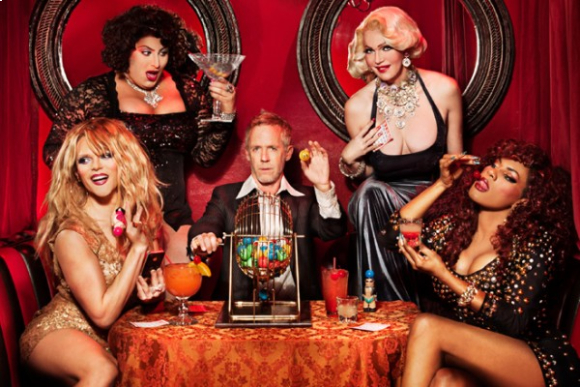 Today, the game remains a poignant part of entertainment in both the United States and the United Kingdom, but also in various other locations around the world. Of course, while this may simply sound like a game of bingo being hosted by one or more drag queens, there's a lot more to it.
How Does Drag Bingo Differ to Standard Bingo?
Perhaps the single greatest part about Drag Bingo is the fact that the majority of games taking place operate as AIDS fundraisers. In fact, the biggest games within this sphere are totally linked with amassing donations for research, support and more in relation to this. Of course, these don't always occur through charities that have a link to the gay community, but if a bingo game is able to amass donations to good causes like AIDS research, this is of little consequence.
Often times today, bingo games will automatically be hosted by drag queens at the request of venue owners. This unites not only the industries of drag and bingo, but also provides a source of entertainment beyond someone just calling out ball numbers. Drag queens, maybe subconsciously, reinvented the game of bingo, taking it from something that was quite slow-paced and linked with the older generation, to a fun game with fierce banter and holding an appeal for younger people, too.
One probably shouldn't attend Drag Bingo if you're easily offended, as drag is all about bringing the sassiness and cattiness to the forefront. So, it's common for players to be targeted and picked on by the drag queen hosts, but it's all light-hearted fun. So, you should always expect to potentially be made fun of while playing such. You might even be given an instant makeover, so if you're not up to donning a shake-n-go wig and a rainbow-coloured feather boa, you obviously only came to play and not slay.
It really depends upon what type of person and player you are, though. Should you like a somewhat basic and vintage method of playing bingo, then the traditional route is probably the best to take. However, if you want something that's a lot more upbeat, has an exciting atmosphere, and will provide plenty of entertainment, Drag Bingo is a much better option to go for – and plus, there's a strong chance that you'll also be doing your part for charity in the process.
Drag Bingo and Charities
Drag Bingo has been forever linked with charitable donations, and that's something that remains the case today. While originally, it started out as a way of funding AIDS research and supporting people suffering with the illness, things have since expanded to incorporate many other charities.
Again, originally, a lot of the bingo games took place in support of LGBTQ+ organisations, earning donations for Pride marches and organisations for social justice and equality. Today, though, that has once again expanded to incorporate other charitable causes, such as the Black Lives Matter movement. Pride marches around the world have been brought to a grinding halt for 2020, due to the ongoing threat of the coronavirus pandemic. However, with the issues raised not only surrounding the death of George Floyd, but other people within the black community, black drag queens have taken to protesting inequalities, especially within the United States.
Of course, while protesting on the streets is one way of raising awareness about this, so as to try and stem the flow of COVID-19 as much as possible, other events have been taking place that allow people to involve themselves without coming into contact with others. Drag queen Harmonica Sunbeam of New Jersey, has organised virtual events including Drag Bingo. This has been done as a way to build up funds that can be donated to the Black Lives Matter movement.
And it's not just over the water that this has been occurring either, because various drag queens in the UK have been taking their bingo games to the online world. Queens like Charlie Hides and Mynxie have both utilised the virtual industry to provide their own form of entertainment, with bingo games often taking place as such. The latter hosted hers through the Facebook social media platform, and she even performed at Instagram Live festivals. Of course, the impact of COVID-19 has been felt by the drag world as well, with Mynxie's own income taking a big hit.
This hasn't stopped the virtual bingo from taking place, though. Hides has continued to host her own online bingo games, bringing the sass and the glamour to screens everywhere. Tickets were snapped up by many, resulting in a large audience for her, and for many other drag queens opting to do the same thing. You can also get your tickets here.
Drag's Influence on Bingo
Naturally, the idea of a bingo game being hosted by a drag queen is pure entertainment in itself. A drag queen needs to have stage presence if they're going to host anything, be that a bingo game or a concert of sorts. However, drag queens have also proved to influence the overall aesthetics of the game of bingo, in general.
If you take a look at online bingo sites as a whole, you'll see that the vast majority of these utilise fantastic, over-the-top colour schemes and layouts, with glamorous settings being brought into effect, too. These colours and designs appeal to fans of bingo in their majority, and there's a strong likelihood that without Drag Bingo ever becoming an entity, this wouldn't be the case today.
It's also because of drag queens, that bingo has found a place in mainstream pop culture. Fans of the popular television series Sex and the City will have seen Drag Bingo make an appearance in the second season. Characters Carrie, Charlotte, Miranda and Samantha find themselves visiting their favourite bar in the series, and Drag Bingo takes place within every Saturday night. This, of course, brought much more attention to this version of the game, whilst cementing the work that had been done by drag queens in the process. That bar from the television series is still operating to this day (prior to the COVID-19 closure), but potentially, if it wasn't for the appearance of it in Sex and the City, Drag Bingo wouldn't have found itself operating in so many locations around the United States and elsewhere across the world.
Of course, it helps that Drag Bingo has also been connected to charity work since its inception, and that this remains a prime reason for such games to stay in existence today.
Drag Bingo in Today's Culture
While the game may have got its start in 1990s Seattle, today it has a much larger audience. Naturally, thanks to the fact that shows like RuPaul's Drag Race exist, people have become much more aware of the entertainment value of drag queens in general. Therefore, Drag Bingo presents much more of a compelling game option than your everyday standard bingo. Thanks to the fact that the online world now provides another outlet for drag queens to express themselves, it's a lot easier for people to gain access to such games as well.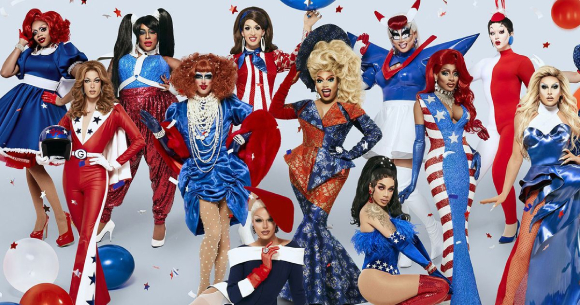 ©Photo by VH1
Drag culture itself has become something that is a lot more mainstream and a lot more accepted nowadays than it ever was. That being said, it still has some way to go before it becomes accepted by everyone. However, the popularity of Drag Bingo has gone from strength to strength over the years, and this will likely continue to be the trend considering the entertainment value of the sector. Many reviews of Drag Bingo games will frequently come with descriptions of it being "hilarious", "highly entertaining" and "full of fun", and that's what we as people all need. Especially in the current climate.
Can we say that that would still be the case if it hadn't been for the work of The Sisters of Perpetual Indulgence over 20 years ago? Or if RuPaul hadn't come to the forefront and opted to create his Drag Race show, would as many people be familiar with the antics and entertainment value of drag queens? And if it wasn't for the fact that drag queens continue their work today, being both entertaining and having a heart for charitable donations, then would it remain as popular as it is? Quite likely not, on all those points.
However, it's quite pleasing to know that it exists as an alternative form of playing bingo. And be that in a live setting or in a virtual one, players get to experience a lot when accessing Drag Bingo, all whilst potentially knowing that they're contributing to a good cause.