Best Christmas Bingo Promotions in 2020
Christmas just wouldn't be the same without receiving some gifts, and this extends to online bingo sites, too. As bingo players, we're always in the mood to bag ourselves a bonus. Fortunately, there are some great Christmas bingo promotions to claim this year, and we're going to be taking a look at some of the best. So, let's take a look into what you're able to get in December 2020 from your favourite bingo sites.

£1 Million Christmas Giveaway from Buzz Bingo
Get yourself involved in the Buzz Bingo £1 Million giveaway because you could be on the receiving end of a huge prize. The site is giving away £25,000 every single week up until Christmas via the Value Room. So, how is this divided up between players?
Well, £12,500 will be given to the player who gets a full house within a certain number of ball calls. The other £12,500 for that week will be given out between every other player who has a ticket in the winning game. Simply play bingo in the Value Room from Monday to Friday and try to win a full house within that certain number of ball calls. The ball call increases every day each week, too, so you're more likely to win as the week progresses.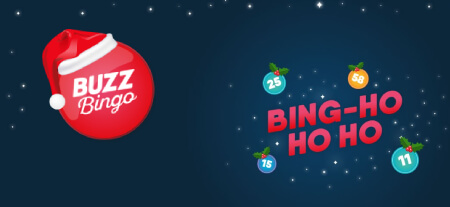 The breakdown of this weekly reward is as follows:
Each Monday, obtain a full house within 36 ball calls to win the £12,500 prize
Should nobody win on Monday, then obtain a full house within 37 ball calls on Tuesday to win £12,500
Should nobody win on Tuesday, then obtain a full house within 38 ball calls on Wednesday to win £12,500
Should nobody win on Wednesday, then obtain a full house within 39 ball calls on Thursday to win £12,500
Should nobody win on Thursday, then obtain a full house within 40 ball calls on Friday to win £12,500
And if nobody wins the £12,500 on Friday by 6 pm, then the ball call will begin dropping every single hour thereafter. Should the game still be going by 11:55 pm on Friday, the very next player to get a full house will win the £12,500 reward!
Tickets for this will cost a minimum of 3p and a maximum of 8p per game, and players can purchase between one and 72 tickets per game. All winnings are paid in cash to your Buzz Bingo account, and there's no wagering requirement applicable!
Catch the Cash for Christmas at Mecca Bingo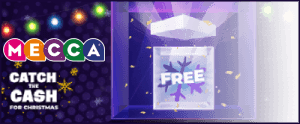 Wouldn't you like to be on the receiving end of up to £1,000 this festive season? If you play Catch the Cash for Christmas at the Mecca bingo platform, then you could very well experience such. Just play the site's Premium game, and you could win the cash reward, bonuses, free spins, and various other perks.
What's more, when you do play the Premium game, you have the chance of winning prize draw entries for the opportunity to win up to £10,000 in the Friday Night Live draw.
Daily prizes of up to £1,000 alongside the Catch the Cash prize draw entries are currently obtainable between November 23 and December 20 at Mecca Bingo. All you need to do is deposit and stake £10 to qualify for this. Then, just pick one of the boxes the following day from 2 pm-midnight to receive your reward. Should you win entries for the Friday Night Live show prize draws, this is when you'll have the opportunity to win up to £10,000.
A Grand Christmas at Heart Bingo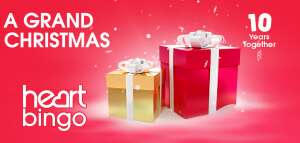 Heart Bingo isn't only celebrating Christmas this year, but its tenth year in operation, too. So, you get to celebrate with the site by opening gift boxes in a special Advent calendar. Every single day, you have the chance to win some exciting prizes, including spa sets, vouchers, and the latest technology. And how do you enter this enticing promotion?
Well, the first process is to open a gift box that will allow you to opt in to it. Then, play £1 on any single day between Tuesday, December 1 and Friday, December 25 to discover the prize of the day. Runner-up prizes are also available, which can provide you with gifts of 50 Box Bonanza games. Up to £10 can be won through these. A maximum of one entry is available for each of the daily prize draws.
Each day, a specified amount of Heart Bingo members will be selected at random by a computer system from all prize draw entries. These players shall win a main prize, with rewards like Amazon Echo Plus (2nd Gen), Xbox Series Xs, Apple iPad 8th Gen 2020 10.2 in 32GB and luxury spa packages being amongst the available prizes.
Paddy Power Bingo 31 Days of Christmas

Never one to do things by halves, Paddy Power is celebrating the 31 days of Christmas, rather than just 12. Through this, the site is providing you with a new gift every single day of the week throughout December. These rewards include special offers, new game releases, and mystery freebies at the same time.
You can also keep a close eye out for the platform's huge cash prizes of up to £38,000, which a few very lucky winners will get their hands on. Special guest Fleur East of The X-Factor fame will be on hand to present these, too.
So, to get involved in the Paddy Power Bingo 31 Days of Christmas event, simply click through the site's Advent calendar. A new gift will be revealed to you at noon every single day. Open the doors and see what's behind it. The special cash giveaways are free to enter, with the winner of this daily reward being revealed the day after the draw occurs.
Daily Free Game Ball Scratcher at Betfair Bingo

Betfair Bingo is giving you the chance to play for free every single day and win up to 100 free spins when you do. Running from Thursday, December 3 through to Thursday, December 17, this promotion allows you to partake in the rewards once per day. If you're successful in being a winner, you'll receive a message with the details of what you've won on it. Directions on how to use it will also be provided to you at the same time.
9K December to Remember Giveaway at Jumpman Sites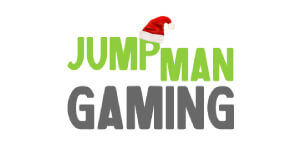 Multiple online bingo sites, such as Swanky Bingo operate on the Jumpman platform and incorporate the 9K December to Remember Giveaway. With the Christmas season having arrived, Jumpman is looking to be the next best thing to Santa Claus with this promotion.
If you enter the December to Remember Giveaway, then you stand the chance of winning one of 4x iPhone 12 Pros, 3x Bose Sound Bars, 2x LG OLED 4K TVs or 3x iPads.
The only thing you need to do to be in with a chance of being a winner is to place a wager of £10 or more at your favoured Jumpman Gaming bingo site. This wager must be used in either the Selfie Elfie, Santa Surprise, Better Wilds or Penguin Vacation rooms. Every £10 that you wager on the games during December will gain you a single entry into the draw for the exceptional prizes above.
Daily Christmas Bingo at Dragonfish Sites

Could there be anything better than receiving daily treats from playing Christmas bingo? Well, playing at a Dragonfish site will allow you to experience this. From December 20 through to December 23, you can play in the exclusive Christmas-themed bingo rooms for a slice of the action. These are:
Oh Deer! (Running between 6-7 pm)
Tree Lines (Running between 7-8 pm)
Jingle Bells (Running between 8-8:50 pm)
Why not secure yourself a place by pre-buying your bingo tickets for 5p each. Up to 96 of these can be bought, so you can really set yourself up for a good time. Playing in those three Christmas bingo rooms grants you tickets to the big finale, too – the Daily Finals Room. There, you'll have the opportunity to win a share of £2,000. This room runs twice every day for a duration of four days, and there's a total jackpot of £250 available each time. That jackpot is distributed in the following way:
1 Line – £30 in real cash
2 Lines – £70 in real cash
Full House – £150 in real cash
At 9 pm on each of the days between the aforementioned dates, you stand the chance of winning your share of £500 in The Daily Finals. Anyone who has won tickets by playing in the three mentioned rooms can take part by claiming their tickets from December 20.
Why not get festive with the Dragonfish selection of online bingo sites? There's plenty for you to win!
NEVER MISS AN EXCITING OPPORTUNITY
Our readers get all the latest and best from online bingo delivered straight to their inbox.
We do not sell or share your information with anyone. You may unsubscribe at any time.