Bongo's Bingo Announce Special Guest Cascada for Norwich Event
Published:

August 3, 2023

Author:

Mike Bennett
Fans of bingo sites and bingo clubs are in for a special treat this September with some music from the early 2000s. Bongo's Bingo has followed through on its promise to put on an extra special show and has announced that the surprise guest for the evening on Friday, 29 September 2023, will be none other than Cascada, the German Eurodance act.
Introducing the Surprise Guest – Cascada
For many people, the special guest Cascada needs no introduction. The act has a string of high profile hits such as "Everytime We Touch", "What Hurts the Most", and "Miracle". The high energy music and captivating vocals made the group a household name in the UK in 2005 and they are the perfect act to enhance the madness of a Bongo's Bingo night.
Lead singer Natalie Horler is well known for her energising stage presence and powerful voice, and she promises to deliver an unforgettable performance that will have the crowd on their feet in between games of bingo.
What Is Bongo's Bingo?
If you haven't experienced a night of Bongo's Bingo yet, you're in for a treat. Bongo's Bingo is more than a game; it is a wild night out that has transformed the idea of what a night at the bingo can be.

The evening is filled with rave rounds, dance-offs, group karaoke, crazy prizes, and much more. It is a perfect blend of comedy, drama, and party chaos. Participants don't just sit and daub numbers; they join in singing, dancing, and competing in quirky challenges that keep the energy high and the laughter flowing.
Speaking about the upcoming event in Norwich, a spokesperson for Bongo's Bingo said:
"We promised an extra special show for you in Norwich this September. Bringing you only the best tunes including 'Every Time We Touch' and loads of their other 00s bangers."
Of course, it wouldn't be a bingo night without prizes and the prizes are often completely unpredictable. Bongo's Bingo doesn't announce its prizes in advance, but often they start with silly token bingo prizes such as a box of breakfast cereal.
It is impossible to say what prizes will be on offer in Norwich, but in the past Bongo's Bingo has been known to give away top-shelf alcohol, vacuum cleaners, and even holidays, sports cars, and more. A highlight of the evening is always if two players call bingo at the same time. They must then take part in a dance-off competition with the crowd favourite being awarded the prize.
Tickets and Venue Details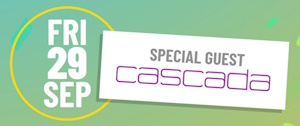 Tickets for Bongo's Bingo with Cascada start at just £12, an incredible value for an evening packed with entertainment and surprises. However, if past events are anything to go by, the early bird tickets are likely to sell extremely quickly. Luckily, full-price tickets are not much more expensive, at just £16. Epic Studios, located in the heart of Norwich, is a venue known for hosting unique and exciting events. A repurposed TV studio, Epic Studios can accommodate up to 900 people, and its impressive £500,000 lighting and sound system makes it the perfect location for a wild night of bingo and dancing.
Plenty More Bongo's Bingo Events
Don't worry if you can't make it to the event in Norwich or it is too far away for you. There are many more Bongo's Bingo events taking place across the UK over the coming months and a number of other special guests have also been arranged.
A particular highlight will be Bongo's Bingo's eighth birthday weekend. To celebrate, there will be two special nights in Liverpool, on 15 and 16 September, with special guest Craig David.
Furthermore, earlier this week Bongo's Bingo announced the dates of its Halloween special events, which are taking place at several venues over the final few days in October. All these events promise a night of bingo you'll never forget, so keep an eye out for the next time Bongo arrives near you.