How Bingo Is Making the World Fairer for Men and Women
Published:

August 1, 2023

Author:

Kat Anderson
It is probably fair to say that most bingo players will not be contemplating gender equality when they sit down to play on online bingo sites. However, once you start looking into the subject, you may be surprised by the ways in which bingo helps encourage inclusivity and break down stereotypes. Let us go through why gender equality in bingo is of the highest standard.
Stereotypes in Sports and Games
While there have been big changes in recent times, the world of sports definitely brings certain stereotypes to mind. To begin with, the idea of physical competition is thought of as masculine.
There are also ideas about "male" and "female" sports; until recently, at schools across the UK, the boys would be playing football and the girls playing field hockey. However, as mentioned, the world is changing. For a very long time, there was very little public interest in women's football; however, the last women's World Cup Final was watched by approximately 1.19 billion people, and this year's World Cup Final is likely to draw an even bigger audience.
The situation is similar in games of both skill and strategy. Women have traditionally been portrayed as a good luck charm when games such as roulette or craps appear in films. However, today there are several high profile women players of games such as poker and blackjack. Bingo is no different; the idea that the game is only enjoyed by gossipy women is rapidly becoming a thing of the past.
Gender Equality and Bingo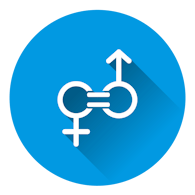 There is nothing in the game of bingo that offers an advantage to any particular gender. The game requires no physical skill, and the outcome is almost entirely determined by luck, as the numbers are based on an RNG system. This is one of the main reasons why online bingo sites and bingo clubs have been able to stage a massive comeback in recent years. They are able to attract a hugely diverse demographic of players, and while roughly 75% of bingo players are women, there has been a significant increase in the number of men turning to the game. Between 2015 and 2018, it grew by 7%, and the trend is only set to grow.
However, while the game itself may be entirely gender neutral, there are certain elements that echo outdated stereotypes that may cause offense in today's society. The standard bingo calls contain language and imagery that is becoming less and less acceptable.
For example, the number 88 has for a very long time been known as "Two Fat Ladies". While some view it as harmless fun and part of the game's history, others would say that it helps perpetuate negative stereotypes and reinforce harmful biases. Even the Sudbury Town Council had to defend the "Two Fat Ladies" bingo call ban. There are a number of other potentially problematic bingo calls, such as "Meal for Two" (69), "J.Lo's Bum" (71), and "Fat Lady with a Walking Stick" (81).
However, the calls are continually evolving and being modernised not only to include references to modern culture but also to match modern sensibilities. As such, these calls are likely to fade from use with time and be replaced with new ones. As this happens, bingo will continue to attract new demographics, bring in younger players, and maintain its place as a much loved game that can be equally enjoyed by all, regardless of gender, age, or anything else.
Promoting Equality through Online Gaming
As mentioned, online bingo, and online gambling in general, is doing a great deal to dismantle gender stereotypes. All of the games are inherently gender neutral, and the ease with which everyone can access them has led to a huge rise in the number of women players.
Anonymity is, of course, a major factor. When a person plays online, no one needs to know his or her name, gender or anything else. As such, everyone can freely enjoy the games without any fear of being judged. Furthermore, they are able to join in with the online bingo community, such as through chat rooms, to the level they are comfortable with.

Convenience also plays a part. While not everyone will be able to find the time to visit their local bingo hall on a regular basis, people can log in and play online whenever they wish. As such, the game has become far more democratised, and with tickets starting from as little as 1p, online bingo really is open to all.
As soon as bingo players join a quality online site, they are agreeing to follow its guidelines regarding respectful behaviour. Furthermore, those who might not be aware of their outdated notions could find that the inclusive atmosphere of bingo rooms starts to change their perspectives. Therefore, it is fair to say that the game of bingo truly is a champion of gender equality.