2019 Christmas Bingo Promotions at the Top UK Bingo Sites
Christmas is right around the corner, and you can bet that there will be some wonderful online promotions to take advantage of at this festive time of the year. That most definitely will include online bingo sites. So, if you're ready to purchase some cards and watch for your numbers being drawn out, we're going to be looking at how you can make your bingo gaming time even better. On our list of top Christmas bingo promotions for December 2019, we've included free spins, daily jackpots, and even prize car giveaways!

Each Day in December Is Ladies' Day at 888Ladies
There are several special Christmas promotions taking place at 888Ladies, starting with the Daily Free Spins offer. Until the end of 2019, every day that you log in to the 888Ladies platform, you'll receive a free spin on the Fluffy Favourites online slot game. As long as you've made a deposit at the site of £20 or more within the past seven days, then you qualify for the rewards.
Don't forget about the Xmas Wheel that is available at 888Ladies, too. With all of your deposits of £15 or more made through December, you will be able to gain a set of free Xmas Wheel spins. Between 50 and 200 of these will be given to you, depending upon the amount that you deposit and as long as you use the code XMAS at the same time. Simply spin the wheel to see how many free spins you'll earn as a reward! There's up to 200 available.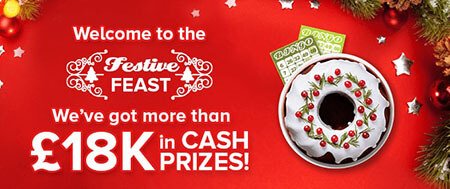 You can also grab a seat at the Festive Feast promotion, with up to £18,000 in jackpots to offer from bingo games. There's a £100 Christmas Cracker, available daily at 9pm, £1,000 Turkey Dinners taking place every Sunday at 6pm and 10pm, and a £10,000 Christmas Pudding occurring on Christmas Day at 1pm.
Finally, there are two awesome Christmas games available at 888Ladies – Pick a Present and Smash a Snowman. For the former, you need to deposit £15 with the code PICK and you can win up to 80% games bonus. The latter requires a deposit of at least £25 with code SNOW, where you can win up to 100% in games bonus.
A New Car for Christmas from Betfred Bingo

Betfred is really going all out for Christmas this year, giving you the chance to win a car! That's right, how would a new automobile for Christmas sound to you? Starting every day at 12:30pm, you simply need to enter the Mystery Room where eleven qualifying games are played daily. Tickets are available for just 10p and there are 20 different prizes to be won, which takes place when HOUSE is called. The car is behind Bingo House number 43!
bet365's Enhanced December Schedule

Not one to be left outside alone, bet365 bingo has an enhanced December schedule for the full Christmas month. Featuring fantastic prize pools, simply buy your tickets from the schedule and then play in the relevant rooms at the times listed. Cash prize pools include the £30,000 Big Bargain Sundays, £20,000 Big Night Out, £50,000 Friday Fever and £15,000 Rainbow Riches.
Get a Share of Santa's Stash at GiveBack Bingo

Stanley's game of the month for December is Santa's Stash, and you could be one of the lucky two players to receive a prize of £100 by playing it. All that's necessary is for you to have topped up your account by £10 or more during the month. Then, simply access the slot and start playing. For every £20 that you wager on Santa's Stash, you'll earn a single raffle ticket. The more tickets you own, the more chance of winning you have! Check back on the last Friday of December to find out if you're one of the lucky winners.
New Offers Every Day Throughout December at bgo Bingo

The Countdown to Christmas is on at bgo bingo, and you'll want to involve yourself in it. Every day up until Christmas, you get to unwrap a new offer. Simply log in to your bgo account via the website or the mobile app and then proceed to your Rewards Hub. Click on the bauble waiting there for you to reveal the offer that you can take advantage of, which include cash bonuses, free spins and more!
Mecca Are Making Dreams Come True This Christmas Again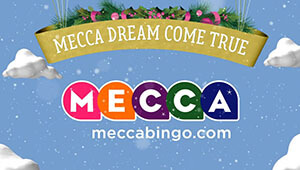 You can join in the festive fun at Mecca Bingo as well, with entries into the Mecca Dream Come True prize draw available up until December 19th. Simply spin the Free Spin Wheel or Premium Spin Wheel to win these. Land on DRAW and you'll be entered, with one free spin on each wheel given per day. In each draw, 19 prizes will be handed out.
That's not all, though. There's the Jingle Bells Tournament that you can enter, too. Through this, every spin that you make on the Jingle Bells slot game will provide you with a chance to win, with the first 250 positions in the tournament receiving at least five free spins. The first prize is £50, while second is £30 and third £25 – all of which are cash prizes. Get involved up until the 19th December.
Bucky's Christmas Cracker and More Wintery Fun at Bucky Bingo

There's a Christmas bonanza taking place at Bucky Bingo, starting with the Very Merry Christmas slot. You can win 20 spins to use on this game on December 21st. Just play £20 on your favourite slots to receive the bonus spins on that day. Don't miss out on the Wintery Happy Hour, either. On December 24th, just make a deposit and play £10 on slots between 3pm and 5pm. This will then provide you with a £5 bingo side game bonus as well! Don't forget to open Bucky's Christmas Cracker, either. Inside, there could be a wonderful offer waiting for you – so make sure you open it before December 15th.
Giveaways and Tournaments at Swanky Bingo
There are various promotions available throughout the Christmas period at Swanky Bingo. These include the Weekly Giveaways, the £250 Daily Slots Tournament, and even the Christmas Delights offer. Simply complete daily tasks for this and receive bonuses for games and bingo, free spins, free tickets and more. The Grand Prize is £100 in games bonus funds! Don't miss out on the Bingo Daily Giveaways or the Free Spins Giveaways either!

A Variety of Christmas Specials at Red Bus Bingo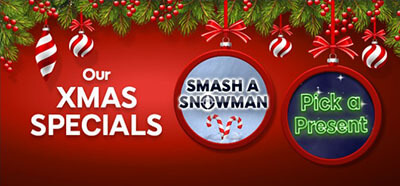 This bingo site is giving away more than £18,000 in cash prizes throughout December, including via the Festive Feast promotion, part of the Dragonfish network. Up to December 25th, you can enter into games for between 1p and 50p and participate in the £100 Christmas Cracker daily, $1,000 Turkey Dinners on Sundays at 6pm and 10pm, and the £10,000 Christmas Pudding event on Christmas Day at 1pm.
You'll also find a variety of Xmas Specials at Red Bus Bingo alongside. They include the Smash a Snowman promotion for up to 100% games bonuses as a reward, and the Pick a Present offer for up to 80% in games bonus rewards.
Free Spins and Festive Feasts at Posh Bingo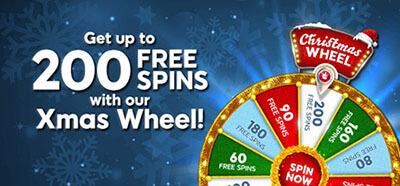 Why not spin the Xmas Wheel at Posh Bingo instead? You're able to earn up to 200 free spins on this, depending upon how much you deposit. With options from £15 and upwards though, you can use the code of XMAS at the same time an unlimited number of times. Simply spin the wheel and see what guaranteed free spins you win from it!
Posh Bingo is also offering the Festive Feast promotion, providing players with over £18,000 in prizes. This is taking place up to December 25th and features three festive bingo rooms to enter. Cards can be bought for prices between 1p and 50p, with 90-ball, 75-ball, and 75-24 ball options being available.
Last of all, there are Xmas Specials taking place at Posh Bingo as well. These are the same Pick a Present and Smash a Snowman promotions that are available at Red Bus and 888Ladies. So, you can benefit from winning up to 100% in games bonuses by participating in these offers with the codes PICK and/or SNOW while depositing at Posh Bingo. It's a minimum of £15 for the Pick a Present reward and a minimum of £25 for the Smash a Snowman.
NEVER MISS AN EXCITING OPPORTUNITY
Our readers get all the latest and best from online bingo delivered straight to their inbox.
We do not sell or share your information with anyone. You may unsubscribe at any time.