Mecca Bingo Introduces BAR Technology with Mike Dean
Published:

October 19, 2023

Author:

Kat Anderson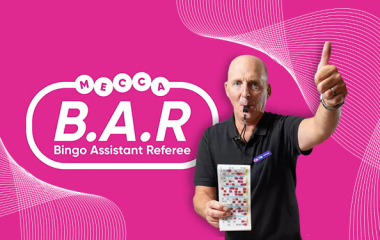 Mike Dean, a former Premier League official, has joined forces with Mecca Bingo, one of the UK's leading land and online bingo operators, to produce a spoof video introducing BAR technology to bingo.
In the video, the controversial Wirral referee is signed up by Mecca Bingo to help them swap VAR for BAR technology (Bingo Assistant Referee). It is pitched as a "state-of-the-art, cutting edge technology system designed to keep bingo players on track and verify jackpot claims".
This latest innovation captures every moment of a bingo game in high-definition video so that the officials trained by Dean at Mecca are able to analyse every call and dab to immediately identify any errors.
Mecca Bingo Explained:
"Yellow cards will be issued to customers who make false claims. Get a red and Mike'll suggest customers move to their own table to focus. Captured footage shows Mike Dean training Mecca staff on player management, and how to use BAR to ensure that all bingo claims are verified and prizes are fairly awarded. And of course, the whipped cream used for Mecca's delicious desserts now doubles as vanishing spray – used by Mike to keep any over excited players at bay whilst results are being checked."
Dean Welcomes Introduction of BAR
Speaking about his starring role, Dean said that it was "tremendous fun" to bring his refereeing to Mecca Bingo. He then went on to compare bingo to football, saying that it is a "beautiful game full of passion and excitement".
Dean added:
"In truth, I had never expected to swap footballs for bingo balls, but the launch of B.A.R made it an easy decision – a little bit extra officiating never hurt anyone. We'll be double checking the next jackpot claim!"
The video was also welcomed by Mike Sime, the Head of Bingo at Mecca Bingo. Referencing the recent VAR controversy with Liverpool, he said, "It's perhaps not been the best of weeks for VAR – but we remain undeterred."
Sime said that they are "really excited" to be introducing the technology to bingo and that they are "absolutely delighted that one of the greatest Premier League referees, Mike Dean, has switched play to Mecca. Good process."
Who Is Mike Dean?
Mike Dean began his refereeing career in 1985. He soon progressed to work in the Northern Premier League as a referee and then he became a Football League assistant referee in 1995 and was promoted to the full referees' list in 1997.
In 2000, Dean was appointed to the Select Group of referees for the Premier League and was added to the FIFA international referees' list in 2003. One of his first major matches in charge was the 2004 FA Community Shield match between Arsenal and Manchester United.
The pinnacle of his career was probably the FA Cup final between Portsmouth and Cardiff in 2008. His career in the Premier League continued and he became the first Premier League referee to issue 100 red cards in April 2019 when he showed the card to Manchester United's Ashley Young.
Dean's retirement was announced on 21 March 2022, and his final game in charge was between Chelsea and Watford on match day 38 of the 2021-22 Premier League season.
Plenty of Action at Mecca Bingo
There has been no word on whether Dean's involvement with Mecca Bingo will continue, but it is possible that you may find him at your local bingo club or perhaps in one of the online bingo games.
There is certainly no shortage of action to enjoy at Mecca Bingo and while introducing BAR technology to bingo may not be real, you can be sure that you are playing at an entirely safe and fair place that regularly rewards its members.