A woman from Dundee, Scotland, was shocked to wake up in the middle of the night only to see a thief helping himself to her bingo winnings.
The woman, who has chosen to remain anonymous, had enjoyed an evening at her local Buzz Bingo club on February 10 this year and won an impressive £500. However, her evening took a frightening turn when her sleep was disturbed by the thief, John Lawrie.
A Full House at 3am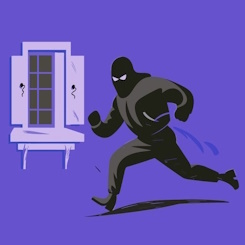 The Dundee Sheriff Court heard that the woman withdrew between £200 and £250 cash on her way to the bingo hall and successfully turned it into £750 at the bingo hall. She went home with the money, all in £10 and £20 notes, stored in her handbag.
The court heard that she woke up at 3am with the feeling that someone else was in the room. She spotted a man taking her handbag and initially thought it was her husband before realising her mistake.
Fiscal depute Gavin Burton told the court that the woman was shocked to see someone else in her room so she woke her husband and asked him to search the house. Her husband found the bathroom window open but the handbag and the money were long gone.
Luckily, the police found Lawrie's DNA at the scene and he was arrested two weeks later.
Thief Pleads Guilty
Lawrie, of Earn Crescent, Dundee, was held on remand in HMP Perth from February 27 until the trial this month. He admitted breaking into the house and carrying out the theft.
Speaking after the trial, Lawrie's solicitor John Caird said:
"Mr Lawrie is quite frankly disgusted with himself. He had a very bad drug problem at the time and he can't recall any circumstances in relation to this matter. He is someone who has a bad record. It is notable that he has never been convicted of theft by housebreaking before. He is in a revolving door of custody. I think that he would benefit from some sort of help when he's released from custody. Mr Lawrie fully accepts that this is a very serious matter. He is not shying away from the fact that this is very serious in any way. He's very ashamed of himself."
Sentencing has been deferred by sheriff Alastair Carmichael for reports and he further remanded Lawrie until September 25, at which point a custodial sentence is expected.
Plenty of Chances to Win in Dundee
Hopefully, the experience will not have put the player off bingo, as there are plenty more chances for her to win in Dundee. The city is home to a Buzz Bingo club and two Mecca Bingo clubs. This means that there are multiple games taking place every day and plenty of special offers to enjoy.
For example, at the Mecca Dundee Playhouse, visitors can take part in the Big Money Weekend where there are prizes of up to £500 up for grabs. There are also offers on food and drink, and plenty of special vouchers available for those who download the app.
Those who visit the Buzz Bingo club will also find plenty of promotions, including discount tickets, happy hours, food and drink offers, the chance to win special jackpots, and far more. There is always a huge amount going on and it is always worth checking the Buzz Bingo website ahead of your visit to see exactly what is on offer.
There is nothing like a night out at a bingo club and the poor woman in Dundee will hopefully not be put off returning to play with her friends. However, don't forget it is also possible to enjoy bingo online, often with even bigger jackpots up for grabs and cheaper ticket prices. While it won't protect your handbag from unscrupulous thieves, you can at least be sure that your winnings will always be safe.