30 Bingo Fun Facts to Impress Your Friends
Published:

December 22, 2022

Author:

Kat Anderson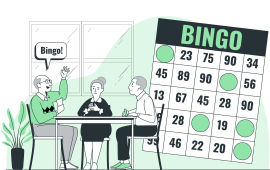 One of the reasons we all love playing bingo is that we can chat to our friends as we play, whether in an online bingo game or the local bingo hall. If you ever find yourself stuck for conversation, why not amaze your companions with some fascinating bingo facts? To help you do just that, we have compiled a list of things you most likely didn't know about bingo. While you may not want to sit down and memorise all fun bingo facts, you are sure to pick up a few things as you read.
Without further ado, let's get started:
Facts about Land Bingo
1

Early versions of bingo were often called "Beano," as players would use beans to mark the number on their cards. By that logic, perhaps today, we should be calling it "Dabo".

2

The name was changed from "Beano" after a woman accidentally shouted out "Bingo" after winning the jackpot.

3

There is a common conception that bingo is mainly played by retirees. However, surveys often find that a large number of bingo players are actually 35 and under.

4

Not only is bingo a huge amount of fun, but it has also been found to help improve a person's cognitive abilities and reduce stress. In other words, bingo can make you smarter and more relaxed.

5

This fact is rather less surprising. The jackpot is ranked as the fifth reason why people play bingo; the enjoyment factor is of far more importance.

6

About 80% of bingo players are women. It seems that the majority of men are yet to discover the joys of bingo.

7

It is definitely worth persevering with bingo; analysis shows that 96% of regular players win the full house prize at least once.

8

There are 1,464,200 different ways of completing a winning pattern when playing with standard bingo cards.

9

Christine Bradfield is thought to be the biggest-ever bingo winner. She won an amazing £1.1 million when playing at The Castle Club in Merthyr Tydfil, where she had been playing for 11 years.

10

The very first bingo game is thought to have taken place in Italy in 1530. Known as "Lo Giuoco del Lotto D'Italia", the game is still taking place today.
Facts about Bingo Cards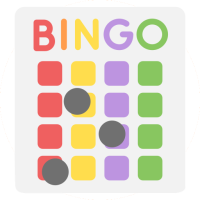 1

In the 19th century, bingo cards were used in Germany as an educational tool to help children learn multiplication tables. However, it is doubtful the students were offered jackpot prizes.

2

Bingo cards have evolved over the years. However, a toy salesperson from New York, Edwin S. Loew, hired and worked together with Carl Leffler, a professor of mathematics at the University of Colombia, to create at least 6000 different bingo cards. Some say that the work on bingo cards, ensuring that each of the 6,000 cards was unique with no repeating number groups, drove Carl Leffler insane.

3

While 6,000 may sound a lot, there are actually 552,446,474,061,128,648,601,600,000 different possible arrangements of the numbers on bingo cards.

4

There are regional variations of bingo cards; those used in the US differ from those found in the UK.

5

US bingo cards feature a 5×5 grid, while in the UK, they are 3×9 grids.

6

The different cards are due to the fact that 75 ball bingo is played in the US, while in the UK, the most common form is 90 ball bingo.

7

In the UK, some people refer to bingo cards as "Housie," a term that dates back to World War I.

8

Amazingly, Americans spend more than $90 million on bingo cards every week.
Facts about Online Bingo
1

As mentioned, at land-bingo venues, 80% of players are women. Online, this increases to 83%!

2

People often claim that online bingo is less sociable; however, studies have found that 47% of players claim to have formed new friendships using the chat feature at online bingo sites.

3

Close to half, 48%, of online bingo players will login for a game at least once a day and view it as an integral part of their daily schedule.

4

Online bingo players tend to be between 35 and 40 years old.

5

There is big money in online bingo. In 2010 alone, online bingo generated roughly $640 million in revenue, and about half of that came from the UK.

6

There are about 4 million online bingo players in the UK, and the number is steadily rising.

7

The first online bingo game, Bingo Zone, went live in 1996. It took another two years for the second game, Bingo Blitz, to go live.
Other Bingo Facts
1

Catherine Zeta-Jones could only go to theatre school after her father won the funds playing bingo.

2

It is rumoured that Queen Elizabeth II enjoyed playing bingo and would shout "Palace" rather than "House".

3

Many UK celebrities began their careers as bingo callers, including Simon from the band Blue, Kian from West Life, and the EastEnders actor Shane Richie.

4

Superstitious bingo players will walk around their chairs three times before sitting down to keep bad luck at bay.
We hope you enjoyed our collection of interesting bingo facts, and we managed to surprise you with at least one!