Baking Bonanza Slingo – The Perfect Recipe for Fun and Wins
Published:

April 25, 2023

Author:

Kat Anderson
If you enjoy tasty treats and bingo, then Baking Bonanza is the Slingo game that you have been looking for. It introduces an exciting twist to the traditional Slingo format, allowing you to control the game's volatility while salivating over the sight of a huge range of cakes and pastries. If this sounds like something you'd enjoy on your favourite bingo site, then read on to learn exactly what this game is all about.
How to Play Baking Bonanza Slingo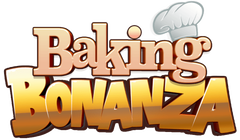 Baking Bonanza follows a similar format to other Slingo games, but with a unique twist that incorporates the baking theme into gameplay. To begin with, where you would normally find numbers on the Slingo 5×5 grid, in this game you will find different ingredients used in baking.
To the left and right of each row on the grid you will see arrow controls. These allow you to cycle through a number of different cakes and pastries, such as Blueberry Pie, Coffee Cake and Cherry Pie. As you do so, the ingredients shown on the corresponding row will change as well. Not all cakes require five ingredients, some may require just two or three, and as such, the potential payout displayed for each row will also change.
After setting your stake, using the control at the bottom of the spin, you just need to click on the spin button. You will receive five spins of the reels visible below the grid. Each spin reveals a set of ingredients at the bottom of the screen, which are then used to mark off ingredients on the grid. When you have marked off all of the ingredients needed for a recipe, you then win its associated prize.
Once your five spins are over, you will be given the chance to purchase an additional spin. The cost of the spin will depend on how close you are to completing recipes. There is no limit on how many extra spins you can purchase, but you may notice that the cost of the spin is more than the prizes on offer.
What's on the Menu?
There are an impressive 40 recipes for you to choose from when playing Baking Bonanza Slingo. You will find them in the paytable divided into five categories according to their ingredients, RTP rate and potential rewards. You must choose one recipe from each category before you start playing the game.
For example, the first category contains Scone, Strawberrys & Cream, Walnut Toffee, Raspberry & Lime Jelly, Chocolate Chips Cookies, Buttercream Cupcake, Peanut Butter Cookie, and Chocolate Marshmallows. They have payouts ranging from 0.40x up to 4.25x and RTPs ranging from 89.78% up to 96.55%.

At the other end of the spectrum, the fifth category contains Honey & Mint Cake, Millionaire's Shortbread, Champagne Jelly, Rocky Road, Banoffee Pie, Golden Caramel Shortbread, Billionaires Shortbread, and Golden Champagne Truffle. They have payouts ranging from 58x all the way up to 2,450x and RTPs ranging from 94.5% up to 95.18%.
Thanks to this, you are able to adjust the game to a level of risk that suits your style of play. If you don't mind taking big risks, then you could configure it to offer payouts of up to 2534.75x each round by choosing the most difficult recipes from each category. However, if you prefer low risk pay, then you simply choose the least complicated recipe from each category.
Baking Bonanza Bonus Features
If you are looking for a game that offers bonus features such as wild symbols, bonus games, and free spins, then you are likely to be disappointed. There are no special symbols other than the cutlery, and they act as blocking symbols.
However, the amount of control this game gives you is truly unprecedented and for many, this will more than make up for the lack of a bonus round.
A Recipe for Success
With its charming graphics, and enjoyable animations and sound effects, you are sure to be drawn to Baking Bonanza Slingo from the moment you open the game. With its unique gameplay features, Baking Bonanza is bound to provide you with hours of fun and even if you don't win, it could inspire you to head to the kitchen and whip up some delicious treats.