Making the Most of Rainbow Riches Slingo
Published:

April 21, 2023

Author:

Kat Anderson
Rainbow Riches Slingo is an exciting combination of slots and bingo, offering players an entirely unique gaming experience. The game brings together the theme and features from the hugely popular Rainbow Riches slot with the bingo inspired Slingo game.
If you're new to this hybrid game or looking for ways to improve your chances of winning big on your favourite bingo site, you've come to the right place. Here we will teach you about the game, its features, and give you a few pointers to help you start winning.
Rainbow Riches Slingo Basics
To play Rainbow Riches Slingo, you'll first need to understand the basics of Slingo. The game is played on a 5×5 grid populated with numbers ranging from 1 to 75. The objective is to match the numbers on the grid with those revealed by spinning the reel below the grid. Each spin reveals five numbers, and you have ten spins to complete as many Slingos (horizontal, vertical or diagonal lines of five matched numbers) as possible.
As mentioned, Rainbow Riches Slingo incorporates several features from the Rainbow Riches slot game, including bonus games and multipliers. These not only add depth to the Irish theme, but they also give you many more opportunities to win.
Rainbow Riches Slingo Features
While trying to cross numbers off the grid, a number of special symbols can land on the reels to help you:
🎰 Free Spins: One of the most exciting features of Rainbow Riches Slingo is the opportunity to win additional spins. Look out for the Free Spins symbol on the reel, which will grant you an extra spin at no cost.
💰 Coin Symbols: In addition to numbers, the reel in Rainbow Riches Slingo may reveal coin symbols. These symbols award instant cash prizes when they appear, boosting your winnings.
🃏 Joker and Super Joker Symbols: The Joker and Super Joker symbols act as wilds. The Joker allows you to mark off any number in the column it appears in, while the Super Joker lets you mark off any number on the entire grid. These symbols can significantly increase your chances of completing Slingos.
😈 Devil Symbol: The Devil symbol acts as a blocker, preventing you from marking off a number in the column it appears in.
Rainbow Riches Slingo Bonus Games
Rainbow Riches Slingo gives you the chance to play five bonus games from the original Rainbow Riches slot game. These games are triggered when you complete a specific number of Slingos and offer additional opportunities to win prizes:
1

Road to Riches Bonus Round: By completing four Slingos, you'll unlock the Road to Riches bonus round. In this feature, you'll spin a wheel to move along a path, collecting multipliers as you go. The further you progress, the higher the potential multiplier. If you reach the end of the path, you'll be awarded a significant prize multiplier.

2

Wishing Well Bonus: This bonus is activated when you complete five Slingos. In this game, you'll choose one of three wishing wells to reveal a prize multiplier.

3

Cash Crop Bonus: Triggered when you complete six Slingos, this bonus game transports you to a field of 50 spinning coins. Each coin can reveal a cash prize or a multiplier, and you have the option to collect your winnings or proceed to the next round for a chance to win even more.

4

Magic Toadstool Bonus: Completing seven Slingos unlocks this bonus game, where you'll choose from a selection of toadstools to reveal cash prizes or multipliers. If you uncover a Fairy, you'll receive three additional picks.

5

Pots of Gold Bonus: This round take eight Slingos to unlock. In this game, you'll watch as gold, silver, and bronze pots spin around. When they come to a stop, an arrow will point to one pot, revealing a substantial prize multiplier.
Tips for Playing Rainbow Riches Slingo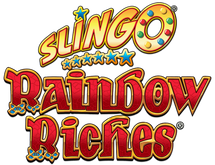 Slingo is mainly a game of chance; however, it is still important to have a strategy in mind. Focus on completing Slingos that will unlock bonus games, as these offer the greatest potential for substantial prizes. Additionally, aim to make the most of Joker and Super Joker symbols when they appear.
At the same time, don't become too fixated on individual Slingos as unexpected events can occur, such as the Devil symbol making an appearance. Be sure to always consider the entire grid and adjust your strategy accordingly to make the most of every spin.
You should also ensure that you are familiar with all aspects of the game. Make sure you understand how features such as free spins and all of the bonus games work. While these features are luck-based, you should still ensure that understand their mechanics. You may wish to play the game in demo mode first so that you can explore all of the features without having to risk any money.
As with any gambling game, it's essential to manage your bankroll effectively. Set a budget for your gameplay and stick to it, and remember never to chase your losses. Always play responsibly and within your means, and never gamble more than you can afford to lose.
Riches at the Rainbow's End
Rainbow Riches Slingo's unique blend of slots and bingo, combined with its vibrant theme and engaging bonus features, make it a truly exciting game. If you are yet to experience it for yourself then head over to your favourite online bingo site and take your first step along the road to riches today.