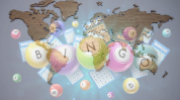 While the game of bingo may have its origins in the Italian lottery, over the centuries, it has evolved, and today small changes to the basic game are found in countries around the world. The game is fairly standardised, so travellers and those on holiday will have little problem joining in with a local game. However, there are some regional differences to be found. Here we will take you through the most popular forms of bingo played around the world.
The United Kingdom – Bringing Bingo into the 21st Century

During World War 1, a game called "Housey-Housey" became popular with soldiers. It was very similar to bingo, and it is the reason why in the UK, people still shout "house!" when they have filled their ticket.
The game became particularly popular in South East London, which is why many of the bingo calls still used today can be traced back to Cockney rhyming slang.
While many bingo halls across the UK have closed over the last few decades, the game is undergoing a resurgence. Bingo halls have started to run events designed to appeal to younger players, and new versions of the game have begun to appear. There are now bingo halls lit up by neon lights, with loud music and plenty of drinks. Pubs and bars are also beginning to hold bingo nights together with traditional pub quizzes.
In short, if you expect a quiet night out at a bingo hall, then you may be in for quite a surprise next time you play bingo in the UK.
Italy – The Birthplace of Bingo

As mentioned, the game of bingo can be traced back around 500 years to Italy. The first known bingo-style game was an Italian lottery game named "Lo Giuoco del Lotto D'Italia". As with so many Italian games, this soon spread to France and from there to the rest of the world.
Impressively, the bingo-like game of "Tombola" also has its origins in Italy. It is an 18th century game that was traditionally played around Christmas. The game is very similar to bingo. It features 90 numbers, each of which has a nickname, and the numbers need to be marked off cards as they are drawn.
However, the tombola tickets are very different from bingo tickets. They are full of colours, and each number has a specific picture. Furthermore, instead of using dabbers, the numbers are marked with wooden coins.
Australia – A Twist on 75-Ball Bingo

Similar to the version of bingo played in the UK during WW1, Australia's bingo game is called "Housie".
It is a 75-ball bingo game, but it is not quite the same as the 75-ball games that you find elsewhere. To begin with, in Housie the middle space on a ticket is not blank. Therefore, it is harder to win a prize, as an additional number is required to complete a line or full house.
Furthermore, they do not use nicknames for numbers. Rather, the caller uses B-I-N-G-O to identify the column that the number is in. For example, N-5 would be in the third column. When a player has achieved full house he or she shouts "Housie!"
Sweden – Bingo at the Drive-In

75-ball bingo is also the prevalent form of the game in Sweden, where it is known as a game of high-five bingo or five-line bingo.
Just as in Australia, the middle space on the tickets is not blank. Players are competing for five different prizes, one line, two lines, three lines, four lines, and the full house.
Furthermore, bingo operators in Sweden have also been working hard to attract the next generation of players. They have found drive-in bingo to be a huge hit. It sees players drive to places of natural beauty and play bingo from inside their cars.
Japan – World Record Online Bingo

Japan has extremely strict gambling laws, which prohibit physical bingo halls. However, the laws do allow for online bingo, and it is hugely popular within the country.
In fact, the world record for the largest ever online bingo game was set in Tokyo. A massive 493,824 players were competing for the prizes.
There is also a bingo-style lottery game in Japan called "Bingo 5", which was launched in 2017. Players can purchase a 3×3 card that has a blank square in the middle. Each of the squares has five numbers that players can choose from. This means that players pick a total of eight numbers (one per square). A weekly draw takes place, and players mark off their numbers.
In Bingo 5, prizes are awarded based upon how many lines players complete on their cards (horizontally, vertically and diagonally). There are seven prizes up for grabs and a full house award of 5.5 million yen.
Denmark – The Home of Opera Bingo

Denmark is another country that has managed to find an exciting new form of bingo to attract younger players. In 2015, as part of the Copenhagen Opera Festival, a game of opera bingo took place.
Instead of winning cash prizes, the winners were serenaded by leading Danish opera singers and young performers. Just what you need for a quiet weekend night in.
Germany – Teaching Through Bingo

Germans have enjoyed playing bingo since the late 1800s. The game was originally known as "Der Lottospiel" (The Lottery Game), and the winners would shout "volltreffer", which means "bullseye".
In typical Germanic fashion, the game was developed into an educational tool to help teach mathematics, spelling, history, and more.