The World's Most Glamorous and Unusual Bingo Venues
Published:

August 23, 2022

Author:

Kat Anderson
It is well documented that land bingo venues have suffered in recent years, and a number of iconic halls have had to close under the pressure of online bingo sites. However, there are still plenty of amazing bingo halls in operation around the world. While they may not attract the same crowds as in their heyday, a huge number of people still enjoy a night out at the bingo with friends and families.
Here we shall introduce some of the world's most famous bingo halls, both in the UK and the rest of the world. Each of them is definitely worth a visit, even if it is just to admire the architecture.
Granada Theatre, Tooting, Wandsworth, London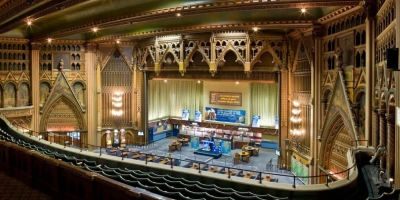 Few people would dispute that this is one of the UK's most interesting bingo halls. If you ever find yourself on Tooting High Street, just a few minutes' walk away from Tooting Broadway tube station, then it is certainly worth a visit.
While it may not be much to look at from the outside, the inside is designed to look like a Russian orthodox church. It was originally a theatre and cinema, and the building was opened in 1931. It then became a music hall in the early 1940s and managed to survive World War II.
There were plans to demolish the building in the 1970s, but the council managed to secure Grade I listed status for the building. It then became a bingo hall in 1976, and today it is part of the Buzz Bingo chain. The venue is open from 10am to 4am every day of the week, and in addition to bingo, it also houses a slots room and a packed bar.
The Granada is a truly historic building, having hosted the likes of The Beatles, The Rolling Stones, the Bee Gees, and Frank Sinatra during its years as a music venue. It has space for 3,000 bingo players, and while it may rarely reach capacity, it is a highly impressive bingo hall.
Gaumont Palace Theatre, Taunton, Somerset
London is not the only place in the UK to have impressive bingo venues. Those who visit Taunton in Somerset should be sure to stop by the Gaumont Palace Theatre. Built in 1932, for many years, this art deco building was a thriving theatre and cinema.
In fact, with its lavish interior, it remained an operating theatre right through until 1981. Today, it is a Mecca Bingo venue, although the council owns the Grade II listed building. Bingo games take place every day of the week, and visitors can also enjoy slots, food, and drinks while admiring the architecture.
Mecca Bingo Forge, Glasgow
Moving north from England up to Glasgow, bingo enthusiasts will not want to miss a visit to Mecca Bingo Forge. It is a vast venue able to house more than 2,000 customers. However, this bingo hall is not famous for its architecture. Rather, it is famous as the luckiest bingo hall in Scotland and the second luckiest in the UK.
There is more money won at this bingo hall than at any other in Scotland. One lucky player, who has been visiting for a decade, has won £50,000. Incredibly, the money was won the day after the venue reopened following the Coronavirus pandemic.
It is a bustling venue offering bingo, slots, games, food, drink, live music, special events, and much more. You'd be mad not to visit.
Mecca Bingo, Kingstanding, Birmingham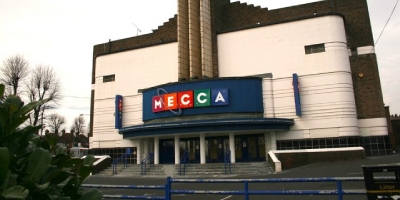 Another bingo hall that began life as a cinema is the Mecca Bingo in Kingstanding, Birmingham. It was built in 1935 by Odeon and was designed by the company's resident architect Harry Weedon.
Unfortunately, the venue did not last very long as a cinema. It was forced to close in 1961 when the cost of maintaining the building became prohibitively high. However, it soon became part of the Top Rank bingo chain, and today it is part of Mecca Bingo.
The building itself has been Grade II listed since 1980, and many consider it one of the best examples of Odeon cinemas in England. However, it is the daily bingo games that is breathing new life into the venue, and anyone in the area should be sure to stop by for a few games.
Dreamland, Margate, Kent
If you are looking for a fun day out with the option of bingo, then a visit to Dreamland in Margate is the perfect solution. It is an old-fashioned amusement park that offers a bit of everything, from rollercoasters to concerts to bingo.
Dreamland's history can be traced right back to the 1870s, and over the years, it has hosted an amazing array of entertainment options. Of course, it has not always been smooth sailing. For example, the bingo hall closed in 2007, but it was then restored and reopened in 2015. While it may not host bingo games every day, there are usually several events each month, and they are always worth attending.
Foxwoods Casino and Resort, Connecticut, USA
Moving away from the UK, bingo lovers in the US should make the effort to visit Foxwoods Casino and Resort in the Mashantucket Reserve in Connecticut. It is a 4,000 square-foot venue that offers everything from casino games to a spa and golf course. Of course, there are also luxury accommodation options and everything else you could hope for at a top quality gambling resort. While it may not be the kind of place you would go to for a quiet night out, it is definitely where you want to be for a gambling weekend.
Bingo Chez Gabi, Bucharest, Romania
When you think of Romania, it is unlikely that bingo is the first thing that comes to mind. However, if you do find yourself in Bucharest, then you should certainly make the effort to visit Bingo Chez Gabi. It may not be the most famous or glamorous of venues, but it has a special atmosphere and is a true favourite with visitors and locals. Together with the bingo, you can enjoy a restaurant that is famous for its pizzas, which is reason enough to stop by for a few hours.
Drive-in bingo, Lidköping, Sweden
Our final bingo venue is perhaps the most unusual. In Lidköping, bingo fans can enjoy the game at a drive-in. Players remain in their cars and can see a screen at the front. There is a speaker calling the numbers, and the concept has proven a hit with younger players. In fact, it is so successful that there are now several drive-in bingo venues throughout Sweden.