The Movies Every Bingo Player Must Watch
Published:

April 1, 2022

Author:

Kat Anderson
You may not think that bingo is a game to have graced the silver screen on many occasions, but you would be wrong. While it doesn't have the glamour associated with games such as blackjack and baccarat, which have certainly made their mark in cinema history, it nonetheless has made its fair share of appearances.
Here we will take you through some of the most memorable movie scenes featuring bingo. Next time you don't know what to watch, consider trying one of them.
Bad Grandpa
Jackass may not have had the same cultural following in the UK as in the US, but it certainly made its impression, and the Jackass movie Bad Grandpa drew plenty of people to the cinema. The film focuses on the character of Irving Zisman who takes a trip from Nebraska to North Carolina escorting his 8-year-old grandson, Billy, back to his real father. In one scene, he stops off to play bingo. As one would expect from a Jackass film, Irving behaves as inappropriately as possible, drinking the marker fluid, and causing his fellow players to react in horror. The scene is sure to have you in stitches, but hopefully it is not something you will ever witness at your local bingo hall.
King of the Bingo Game
This short movie is all about a bingo player, Sonny, who is desperate to win the big prize for his family and as such, it is one that bingo fans are sure to love. The film takes you on an emotional journey with Sonny and it is anything but a barrel of laughs. However, if you are looking for something a little more serious to watch that has bingo at its core, then this is the ideal solution.
Hotel Transylvania
Those who enjoy animation will love watching Hotel Transylvania. It combines bingo with a monster theme and in the memorable bingo scene, the balls are actually skulls. It sees one of the monsters shout out "bingo" only to have the gremlin sitting next to her turn and eat her ticket. It is a brilliant depiction of just how competitive bingo can be and serves as a timely reminder that it is never a good idea to eat Mrs Frankenstein's, or indeed anyone else's, bingo cards.
Big Momma's House 2
The Big Momma's House series of movies are widely recognised for their hilarity and if you enjoy bingo and comedy, then the second film in the series is perfect. It tells the story of Martin Lawrence as an undercover FBI agent who is tasked with observing a household that may be up to no good. The bingo scene sees Momma take the family to a bingo game whereupon one of the children decides to start randomly shouting out "bingo". As you can imagine, this did not go down well with the other players.
Rampage
Even fans of action films can find some bingo action. Rampage is about Bill Williamson, a 23-year-old who lives with his parents in a small town and goes on a killing spree. He heads out with a variety of weaponry with the aim of killing as many people as possible. However, it appears that he may have a soft spot for bingo players. In one scene, he visits a bingo hall, buys a sandwich, harasses the person behind the counter, and then leaves. In fact, the film shows how dedicated bingo players are, as they don't even notice him entering the hall carrying several guns.
Babadook
From action to horror, bingo seems to feature in every film genre. Babadook follows Amelia, who works in a care home and decides to organise a bingo game for the residents. However, as the game progresses, Amelia's instability starts to present itself and she begins to realise that she is in a very serious situation. While this is not a film for the faint hearted, it will certainly have you on the edge of your seat.
Beach Blanket Bingo
If you enjoy 1960s era comedies and bingo, then this film is a must see. During a bingo game, a few of the players start to swap numbers on their bingo cards, which leads to a complicated and hilarious love triangle. The film also features skydiving, surfing, and a mermaid. What more could you ask for?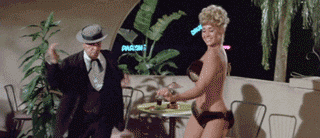 Bingo
While the film Bingo may not contain any scenes of the game, it still deserves mention. The 1990 film is about a dog called Bingo who ran away from the circus to save a little boy's life only to then be abandoned as the family moves away. With so much emotional drama, it truly is a reflection of a night out at a bingo hall.
Inglorious Basterds
Again, this film may not have any bingo scenes, but it is one that bingo fans are sure to love. The character Colonel Hans Landa, who is played by Christoph Waltz, exclaims "That's a Bingo!" throughout the entire film. The phrase occurs so often and with such passion, that there is no way that the film can be left off this list. Furthermore, the film achieved such popularity that for a time, the phrase even entered popular use.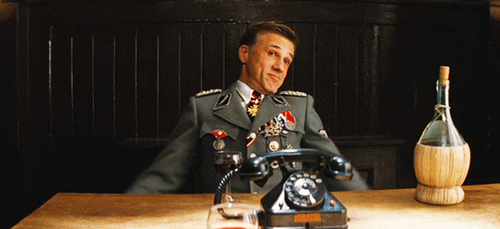 Honourable Mentions from TV Shows
Bingo has appeared in several television shows but there are a few scenes that stand out and certainly deserve a mention.
Better Call Saul
Better Call Saul tells the story of the lawyer Saul Goodman, who first appeared in the show Breaking Bad. In one scene, Saul is hosting a bingo game for the elderly. However, rather than call out the numbers, he ends up talking about his general cynicism towards the world, to the confusion of the players. In addition to being a great scene, it also features an amazing vintage bingo machine that fans of the game will love the chance to see.
Curb Your Enthusiasm
In this now classic sitcom, Larry David joins his father for a game of bingo in his retirement home. Of course, things don't go as planned and it is not long before Larry begins to lose his temper, resulting in hilarity. While we recommend trying to stay calm at the bingo hall, we can certainly understand the frustration a game can provoke.
The Simpsons
It often feels like there isn't a scenario that can't be found in The Simpsons, so it is no surprise that there is a brilliant bingo scene. It sees the caller calling numbers, but the players can't hear what is being said. In the end the caller just gives up and shouts out 'Bingo' himself.