If you have come across Multi Mega Bingo games, but you are not quite sure how to make the most of them, then you are in the right place. Here we will take you through one of the most famous RNG games in all bingo sites and give you some tips so that you can maximise your fun and hopefully, your winnings as well.
Multi Mega Bingo Basics
Multi Mega Bingo is played with multiple bingo cards simultaneously and as with any bingo game, the aim is to complete winning patterns on your cards. The cards are usually arranged around the perimeter of your screen and in some games, there can be as many as 20 of them. However, you do not need to play all 20 if you do not wish to.
At its core, Multi Mega Bingo (MMB) is a 60-ball bingo game, and as such, each card has 5 columns with 3 rows and there are 15 numbers per card.
Once you have selected which cards you wish to play with, you then need to set your bet and start the game. There are several different winning patterns, but the patterns and their associated payouts may vary slightly from game to game. Here are some of the most common patterns:
✔️ 5 numbers in a horizontal line
✔️ V or inverted V
✔️ T or inverted T
✔️ A '+' shape
✔️ 9 number inner square
✔️ Up or down complete arrow of 9 numbers
✔️ Any 2 complete horizontal rows
✔️ 2 complete horizontal rows plus the centre number
✔️ 3 complete numbers in the top row and bottom row and all 5 numbers in the middle row
✔️ 12 number outside the perimeter square
✔️ Complete top row, complete bottom row, and centre 3 positions in the middle row
✔️ Complete bingo card of 15 numbers (full house)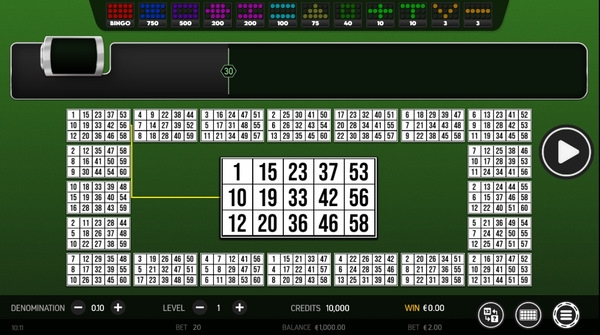 Most MMB games will offer a demo mode, so you can explore the games and fully familiarise yourself with how they work before you start risking your hard-earned money on them.
Multi Mega Bingo Gameplay Explained
Before diving into bingo strategies, you must first ensure that you fully understand how the game works. As mentioned, the cards will be arranged around your screen. There is also a large bingo card in the middle of the screen and it corresponds to one of the cards around the edge (often there is a line drawn from the centre card to the one it is representing).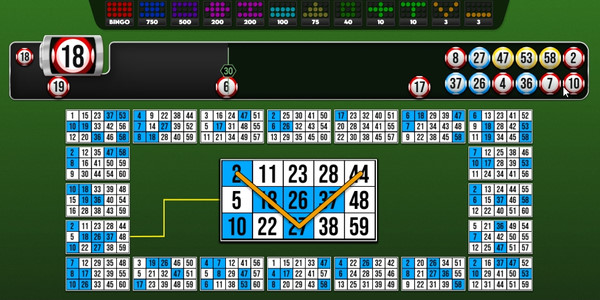 When you start the game, 30 bingo numbers are drawn and they are marked off all of your cards automatically. Any winning patterns will then be highlighted on the cards around your screen and your winnings will be displayed.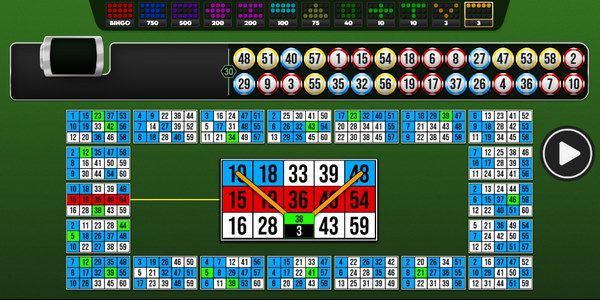 However, there is now an optional second stage to the game. In most games there is a field labelled 'Total Possible'. This shows the potential winnings from the game after the second stage has been played. You click a button and a further 10 numbers are drawn. Once this has happened, all the winning patterns will be highlighted across all of the cards.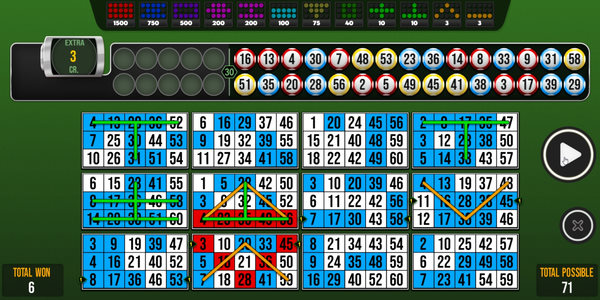 Tips to Improve Multi Mega Bingo Success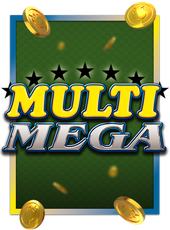 Now that you fully understand the game, it is time to start looking at how you can improve your winnings. The first thing to understand is that the game is one of luck. You can't control the numbers that are drawn. This means that there is no strategy that will guarantee a win every time. However, there are still things that you can do to improve your chances.
When gambling, bankroll management is of vital importance. Not only will it prevent you losing money you can't afford, but it will also help you play for longer. You need to set a budget before you start playing. Then, it is time to consider how to divide it.
First, you need to think about how long you want to play for and how long each game takes. This will give you an idea of how many games you will play. You then divide your budget by the number of games and this will tell you how much you can bet per game. You then need to divide your bet according to how many cards you want to play with.
Of course, if you hit a big win while playing, you may wish to increase the size of your bet. However, it is also worth considering putting your winnings aside for your next gaming session. This way, you can build up a bigger bankroll over time, which means that you will be able to play for longer or for bigger prizes.
Choosing How Many Cards to Play With
As mentioned, when planning your budget, you need to think about how many cards you will have active for each game. This is somewhat of a balancing act. The more cards you are playing with, the more opportunities you will have to win. However, each card costs money, so it puts up the cost of a game.
Some players will opt to play with fewer cards and larger bets per card while others will choose to reduce their bet per card in order to have more cards active. This is a matter of personal preference. As long as you remain within your budget, then it is entirely up to you how you play. However, many would agree that more cards is the better option as it results in even more tension, suspense, and excitement in each game.
Multiple Thrills with Multi Mega Bingo
While Multi Mega Bingo may look a little daunting at first, it is actually very simple to understand and there is no denying that it can provide hours of fun and excitement. Before you play, take a few minutes to make sure you understand the game and, with a bit of luck, you'll soon be forming more winning patterns than ever before.