The combination of traditional bingo and modern slots has helped bingo slot machines surge in popularity in recent years. If you are new to these games, then read on to learn how the games work, the different types of games and the features that have helped to make them so popular.
Bingo slot machines often feature a bingo card displayed above the spinning reels, with the slot machine's random number generator (RNG) drawing the numbers. Players need to complete rows, columns, or diagonals on the bingo card to win prizes.
Together with this style of bingo play, the games feature slot gaming elements, such as free spins and bonus rounds, to add an extra layer of excitement. Multipliers can increase winnings, and special symbols such as wilds and scatters can unlock additional prizes.
The Different Types of Bingo Slot Machines
The games described above are commonly known as Slingo. However, you will sometimes come across terms similar to 'bingo slot machines' used to describe a few other types of games:
🎰 Bingo-themed slot machine games: These are slots that take inspiration from bingo and include symbols and graphics based upon it.
🎰 Bingo rooms featuring slot machines: Nearly all bingo sites now offer a wide range of slots alongside traditional bingo options.
🎰 Bingo-style slots with Mini, Minor, Maxi, and Major jackpots: These games offer jackpot prizes making them hugely exciting.
What Makes Bingo Slot Machines So Popular?
The combination of bingo and slots provides a unique experience that appeals to a broad audience. The games are easy to understand, require no real skill and they cater to the tastes of both bingo players and slot enthusiasts.
In fact, the combination of bingo and slots arguably results a more engaging and dynamic gaming experience than either game can on its own and this is then enhanced through colourful symbols and animations, sound effects, and so on, that draw players into the action.
A Closer Look at Slingo Games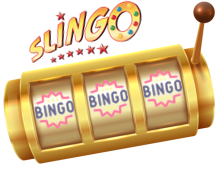 As mentioned, many different games can fall under the category of bingo slot machines. However, as the name suggests, Slingo is the only game to really bring elements of both together.
Most Slingo games are based upon 75-ball bingo. Players receive 20 spins to try to match numbers on their bingo card with those appearing on the slots reels. To add excitement, Slingo games often include Power-Ups, Devil's Protection features, and Multipliers. Furthermore, there are often bonus features based upon the games' themes.
Today there is a huge range of Slingo games for players to explore. Some, such as Slingo Starburst, are based upon famous slot machines, while others have themes such as fishing, horror, nature, and so on, that take players on exciting journey. As such, there is something for every taste and plenty for players to discover to ensure the games remain appealing.
Strategies and Tips for Playing Bingo Slot Machines
As all bingo and slots players know, both games are purely games of chance. This means that there is nothing you can do to influence the outcome of a round. However, you can try to improve your chances using the following strategies:
✔️ Bankroll management: Set a budget for your gaming session and stick to it. This will help you avoid overspending and ensure you have enough money to play another day.
✔️ Take advantage of bonuses and promotions: Make use of welcome offers, match bonuses, and other promotions to maximize your bankroll and increase your chances of winning.
✔️ Understand the game rules: Familiarise yourself with the rules and features of each game before playing. Knowing how bonus rounds and special symbols work can help you make the most of what the games have to offer.
✔️ Practice in demo mode: Use free demo games ensure you fully understand the understanding of game mechanics before playing with real money.
Embrace the Excitement of Bingo Slot Machines
Bingo slot machines truly offer a gaming experience like no other. The combined thrill of a bingo-style draw with slot machine bonuses keeps players on the edge of their seats from beginning to end. If you are yet to experience this for yourself, then be sure to keep an eye out for these captivating games next time you login to play at your favourite online bingo site.