Play Bingo and Raise Money for Carers Trust at Mecca
Published:

December 9, 2022

Author:

Kat Anderson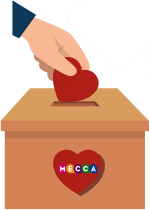 For many people, playing bingo is all about the social atmosphere and community spirit, and there is nothing more community-minded than raising money for charity. That is why the people at Mecca Bingo put a huge amount of effort into raising money for good causes and often find inventive and enjoyable ways to involve players.
It doesn't matter if you prefer online bingo games or go down to your local bingo hall, they have Charity Bingo Games as part of the regular online bingo schedule. If you want to do your bit to raise money for charity while playing bingo, then you can play one of the bingo charity games that take place every day from Monday to Saturday at 7:15pm and every hour on Sundays from 8:15am to 11:15pm.
The games take place in four rooms Penny Lane, Two Little Ducks, Main Event, and Lucky for Some, giving you plenty of choice. All profits from the games go to the Carers Trust, and you still have the chance to win cash prizes.
Mecca Bingo Offers
Mecca Bingo's Charity Clothing
There are many more ways to help Mecca Bingo raise money for the Carers Trust. The bingo giant recently launched a range of Christmas jumpers, and anyone who regularly visits their local Mecca Bingo club is sure to recognise the designs, as they are lifted from the halls' iconic carpets.
There are two jumpers available, one red and one blue, and those who enjoy bingo puns will love the inscriptions, 'Dab the Halls' and 'Feliz Navidab'. The jumpers are priced at £31.99, and of course, all the proceeds go to charity. What better gift could there be for the bingo lover in your life?
This is not the first time that Mecca Bingo charity campaigns have turned to clothing in order to raise money. Earlier this year, the bingo operator held an exclusive Denim and Diamonds fundraising event in aid of the Carers Trust. Those who attended were encouraged to wear their best denim clothing and participate in organised bingo events to help Mecca raise £60,000 in just 6 days.
In addition to offering bingo prizes, each bingo club had a "Thomas Sabo" bracelet available to be won. Furthermore, Mecca created a one-of-a-kind customised denim and diamond-themed jackpot. It had bingo embroidery and delicate diamante embellishments. Across the back were the words' Bingo Queen', and the floral design represented classic bingo calls such as Kelly's Eye (1), Lucky Seven (7), Two Little Ducks (22), Snakes Alive (55), Bang on the Drum (71) and Queen Bee (73).
In the end, the jacket was auctioned off for a winning bid of £120. While it may not sound much, since Mecca Bingo began raising money for Carers Trust in 2014, the operator has raised more than £3 million for the charity, so every little helps.
Speaking ahead of the funding raising night, Carol Rhead, head of marketing, venues at Mecca Bingo, said,
"The prizes and the customers will be glittering at Mecca clubs across the UK this Saturday as we raise money to support unpaid carers through our Denim and Diamonds night. Our long-standing partnership with Carers Trust is something that we're very proud of. We can't wait for everyone to don their denim and best bling accessories and dab their way to help us reach our £60,000 target this Autumn."
What is Carers Trust?
Carers Trust, Mecca Bingo's chosen charity, works to ensure that unpaid carers around the UK are given a voice and receive the support, advice, and resources they need to cope with their responsibilities and lead a fulfilling life.
Carers Trust sets about achieving this in a number of different ways. For example, they run training sessions for young carers and help them find employment opportunities. They also run the Making Carers Count programme, which aims to identify and support carers under-represented in the community and who have been hit the hardest by the recent coronavirus pandemic.
The charity also lobbies lawmakers and other institutions on behalf of carers and is involved in the All-Party Parliamentary Group (APPG) on Young Carers and Young Adult Carers. All in all, it is a wonderful charity, and if all it takes to support it is playing a bit of bingo, then there is no reason not to get involved.