Looking back, it seems amazing that there were ever any concerns that Slingo would fail to be a hit with online bingo players in the UK. It was already a social gaming success and it really should have been no surprise that it proved equally popular with real money players.
Gaming Realms own the Slingo format and they introduced it to the UK in 2015. The company quickly created a number of variations of the original game and it quickly started attracting attention from other major iGaming developers. Very soon, developers started licensing Slingo and this led to the creation of Slingo game versions of some of the world's most popular slots and other games. Here we have picked some of our favourite of these so that you can try them at your favourite online bingo site.
Starburst Slingo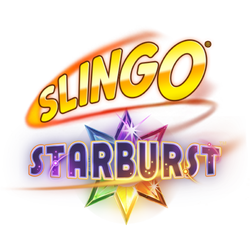 NetEnt's Starburst slot is arguably the most successful online slot of all time. It is still loved by players today, more than 10 years after its launch. The Slingo Starburst version was released in March 2021 and it has enjoyed comparable levels of success.
The action takes place on the standard 5×5 grid with the slot reel underneath. A round consists of 10 bingo calls that reveal numbers and special symbols such as wilds, super wilds and blocker symbols.
As usual, the aim is to fill a line with matching symbols on the grid, which is known as a Slingo. Each complete Slingo advances the player one step up the prize ladder. If the player scores enough Slingos, then they are taken to the original Starburst slot game where landing three or more matching symbols on a payline awards a payout, there are expanding wild symbols, and respins to be won.
It is not often that an entire slot game is integrated into a Slingo title, but considering the immense popularity of Starburst slot at online bingo sites, it is a move that makes complete sense.
Slingo Rainbow Riches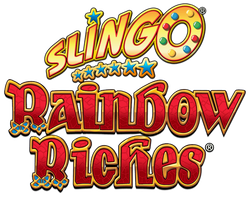 Barcrest's Rainbow Riches slot is probably one of the most iconic fruit machines of all time. Visitors to bingo clubs in the UK have enjoyed it for decades and it is also very popular online.
The Irish-themed slot features bonus rounds such as Pots of Gold Pick Me and Road to Riches, and there are very similar features to be found in Slingo Rainbow Riches. In many ways, it is a standard Slingo game, but it comes to life once enough Slingos have been scored to trigger the bonus features.
Players who trigger the Red Magic Toadstool feature will have the chance to win multiplier prizes while those who reach the Road to Riches will have the chance to progress towards a progressive jackpot by spinning a wheel.
It is no surprise that the game has become such a massive hit with players and it looks as if the Slingo version is set to become even more popular than the original slot.
Deal or No Deal Slingo
Branded games are often popular and this Slingo version of the television show Deal or No Deal has been a huge hit with players.
The Slingo Deal or No Deal is played on a 5×5 grid where 25 boxes are visible. As the game progresses, the boxes are opened to reveal prizes. The aim is to reveal at least 4 box values in a row, which is a Slingo. When this happens, players can either claim the prize or continue playing. If every space on the board is revealed, then a x20 multiplier is awarded to help players win even more.
This twist on the original Slingo format makes Deal or No Deal Slingo truly standout and is one of the reasons for its enduring popularity with players. However, if you are new to Slingo, then you may want to start with a more traditional version of the game as you get to grips with the basics.
Coming Soon – Tetris Slingo
The most recent licensing deal signed by Gaming Realms looks to be hugely exciting. It was with The Tetris Company Inc. and it will result in a Tetris Slingo game being released in the second half of 2023.
While not much is yet known about the game, there are obvious parallels between the creation of lines in Tetris and completing Slingos. As such, there are high hopes that the game will offer some truly original and enjoyable features.
Many More Exciting Slingo Games
The above are undoubtedly three of the most popular Slingo games to have been released to date. However, there are many more Slingo games that are loved by players, such as Slingo Deadliest Catch, Slingo Monopoly, and Slingo Berserk. If Gaming Realms continues to sign licensing agreements, then there is every chance of more thrilling games arriving in the near future.