The World of Online Scratch Cards Revealed
Published:

July 4, 2022

Author:

Mike Bennett
Online scratch cards are often overlooked. Due to their inherent simplicity, some people simply pass over them without considering whether there is anything to be gained by playing them. However, it is precisely this simplicity that can make them so enjoyable. Furthermore, some online scratch cards offer truly enormous prizes.
In this article, we will first examine what you should be looking for when playing online scratch cards and then give you a few suggestions as to which we think are amongst the best.
Why Play Online Scratch Cards?
As mentioned, some people (erroneously) believe that because scratch cards are simple, they can't be much fun. However, there are actually many things that make them hugely enjoyable. To begin with, you don't need to worry about complicated rules or strategies. You just need to sit back and relax.
Secondly, there is a great deal of anticipation in each game, and you have a huge amount of control over it. When playing online, you will find a button labelled something like "Reveal All" and this is perfect if you are after high speed action. However, you can also reveal the hidden symbols one at a time, and this way, you can build the tension with every click of the mouse.
It is also worth briefly mentioning the reasons it is better to play scratch cards online than buy physical ones. First, it is instant, there is no need to go to the shops and queue. Second, you don't need to worry about finding a coin to scratch the panels with or ruining your fingernails. Third, you will find that there is a far greater choice online than in your average shop.
In fact, it is worth expanding on this final point. When playing scratch cards online, you will find cards with a huge range of different themes. There are games based on nature, history, superheroes, television shows, films, sports, and much more. As such, you are bound to find at least one that appeals. Furthermore, the games are able to go a little further than their physical world counterparts. Many online scratch cards offer small bonus games that help bring the themes to life and give you even more chances to win.
How to Choose the Best Online Scratch Card
The truth of the matter is that there isn't really a "best" online scratch card. It is very much an individual choice. However, there are some things worth keeping in mind when choosing.
Assuming that you are playing at a licensed bingo sites and the games are from a trustworthy developer, you can be sure that the scratch cards are fair. Therefore, you should start by looking for cards with themes that appeal. Ultimately, that is what will have the biggest impact on your enjoyment.
Of course, there are other factors that you can take into account. For instance, most online scratch cards offer a range of prices and it is important to check that your chosen card is affordable. You may also want to look at the payout structure of the card.
If you want to get technical, you can look into each card's Return to Player. The Return to Player, or RTP, is the percentage of money bet on a scratch card that is returned to players over time.
Therefore, if a scratch card has an RTP of 95%, it will payout £95 for every £100 bet on it. However, the RTP is calculated over a massive number of games. There is never a guarantee that you will win that percentage of money back. You could win far less. The flip side of this is that you could win far more, and that is exactly why gambling is so much fun – there is a chance you could hit a huge win.
Looking at RTPs and managing your bankroll carefully are really the only two strategies that you can use when playing online scratch cards. Which reinforces the point that when choosing the "best", it really is about which games you enjoy.
Our Favourite Scratch Cards
While the choice of scratch cards is personal, there are definitely some that we have enjoyed playing more than others.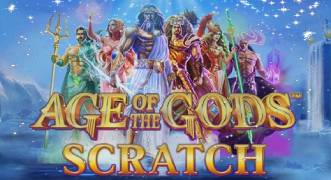 For instance, anyone who has ever played the Age of the Gods slots will love the scratch card that is part of the same series. While it isn't linked to the slots' progressive jackpots, it has a stunning background, atmospheric music and truly gives you the sense of scratching as you remove the symbols. There are also several scratch cards that will appeal to fans of film and TV. You can find scratch cards based upon The Walking Dead, The Wizard of Oz, Stargate, Ted, Deal or No Deal, and far more. All of them do a fantastic job of bringing their themes to life and some of them also offer fun little bonus games that are truly exciting.
Above we mentioned that you may wish to look at scratch cards RTPs to help you choose. The scratch card with the highest RTP that we are aware of is Lucky Numbers, which is a Microgaming title. It has an RTP of 96.57% and has an oriental theme. It gives you two chances to win with each card and amazingly, it has a top payout of £200,000.
Another game with a high RTP is Wish Upon a Jackpot, which comes in at 96.06%. It is themed upon fairy tales and you will come across Puss in Boots, the fairy godmother, the gingerbread man, and other favourite characters from your childhood. It also offers two bonus games, which build upon the fairy tale theme, and it is sure to provide hours of fun.
A final recommendation would be Merlin's Millions, which has an RTP of 95.17%. It accepts bets starting at £0.20 and you can bet as much as £200 per card. There is a top payout of £250,000 and the chance of winning a bonus prize with every card. It's a beautifully designed game and will add a touch of magic to your scratch card experience.