RuPaul's Drag Race Sends Cara Melle Home Following Acting Challenge
Published:

November 16, 2023

Author:

Mike Bennett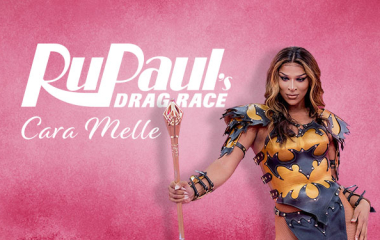 Fans of RuPaul's Drag Race UK said goodbye to Cara Melle this week after the queen was eliminated following an acting challenge.
All the queens performed well in the challenge, making the elimination a hard decision. Prior to the main challenge, the contestants had to shade each other using puppets. There were spectacular put-downs directed at Kate Butch and front-runner Ginger Johnson was ultimately declared the winner and given the task of casting.
For those seeking diverse entertainment experiences, exploring options like online bingo sites could provide an alternative source of enjoyment.
Parodies in Pairs
In the acting challenge, the queens had to pair up to perform three parodies, "Footballers' Wags", (Cara and Michael Marouli), "Holedark" (Ginger and Kate) and "Femmerdale" (Tomara Thomas and DeDeLicious).
During the challenge, when filming with Michelle Visage, Cara was criticised for her line delivery, Ginger and Kate were both praised for their comic timing, and Tomara and DeDe were the "queens who didn't know their lines".
After the videos were edited, they were watched and judged by Ru, Michelle, Alan Carr and guest judge Joel Dommett before the queens did their runways. For the first time, Kate was praised for her looks, while Cara, Tomara and DeDe were all praised for their good performances despite some problems at the beginning.
A Tough Call for the Judges
Ru said that it would be a tough decision as all of the performances were high quality. However, there had to be a bottom two and Cara and Michael were given the challenge of lip-synching to "Touch Me (I Want Your Body)" by Samantha Fox.
Kate Butch was declared the winner and claimed her first RuPeter badge, while Cara was sent home. Speaking afterwards, Cara said, "This is an experience I've been dreaming of my whole life, thank you so much." She then quoted her Dionne Warwick Snatch Game performance as her exit line.
Next week's episode will see the queens challenged with turning a civilian into a drag queen.
Enjoy Drag Queens and Bingo
There is a wonderful tradition of drag queens hosting bingo nights and there are plenty of events taking place in the coming weeks for fans to enjoy.
For instance, at the Broadway Theatre in Catford, London, the Broadway Drag Bingo show is available until Wednesday, 22 November. The tagline reads, "THAT GIRL is ready to show you her balls. Bingo balls!! And they drop at 8!" It promises an evening of live vocals, lip syncs, campery, tomfoolery, and of course, prizes.
Alternatively, you can head to Neverland London on Wandsworth Bridge Road for what is promised to be a 5* drag queen bingo night featuring bingo games. Dance-offs, and more. According to the event's website:
"During the game, drag queens dress up in outrageous costumes and perform lip-sync and dance numbers while numbers are called out. Players get to enjoy the show while keeping an eye on the bingo cards, waiting for the numbers to match up. The first person to match all the numbers on their card wins a prize! It's a unique way to combine bingo with a fun night out. Neverland's Big Drag Bingo is the perfect mix of a night out with the girls and a lively night with the boys. It's a great way to spend time with friends, meet new people, or even do something a little different for your next date night. We're sure you'll have a blast!"
There are plenty more drag bingo events taking place across the length and breadth of Britain. Mecca Bingo clubs often host special events, in particular Bonkers Bingo, and these sometimes have special drag queen guests. It is also worth keeping a close eye on Buzz Bingo's events as they too often host special nights in their clubs.
Drag queens have been hosting bingo events now for more than thirty years and they have become a favourite of players around the world. If you are yet to experience the craziness they bring to the wonderful game, then be sure to search for events in your local area.