Bingo has amazed many people with its popularity and growth over the years. You can play both in land-based venues and online on bingo sites. Whether you prefer the traditional paper cards or the digital ones, you will need a way to mark off the numbers as they are called. That's where bingo daubers come in handy. Bingo daubers are special markers that come in various colors, shapes and themes. These ink pens remain integral to the game, helping players mark off numbers on their cards. We look at what makes them essential to the game and some fun facts about them.
What are Bingo Daubers?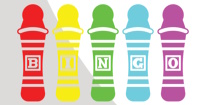 If you have not played a physical bingo game, you may be at a loss regarding what bingo daubers entail. They are ink pens that feature bottle shapes and sponge tips. So, each time you think a number is worth a try, you use this pen to tick it. Many online games have a dauber of some sort. While you may not hold the pen physically, the software depicts a pen ticking off the numbers as you choose them. So, in some way, you have used a dauber in your gameplay.
But what makes these daubers so interesting? Let's get into some exciting facts:
Dried Beans Set the Stage
Did you know that Bingo was originally Beano? Before Edward Lowe entered the scene and revolutionized this game, people referred to Bingo as Beano. After all, they used dried beans to mark their cards. Over time, beans lost their allure as they would not stay in place. It was quite easy for the beans to move from their spots, resulting in a win or a loss. And this frustrated players and callers, leading to the beans losing their position as markers. Eventually, people moved on to plastic discs before landing on daubers in the 1980s. Since then, daubers have been a mainstay in the bingo scene and don't seem to have lost their appeal.
So, how did Beano become Bingo? It all started with an excited player who yelled "bingo" after winning a game. Of course, this had a better ring than Beano and Edward went with the more commercially-friendly name.
Daubers are Not Standard
Bingo is a versatile game in many ways. First, it features a series of different numbers. The winning patterns are also different. And classic games usually have a twist, e.g., the 30-ball bingo game, which attracts people who want fast-paced games. With all this variety, having one standard dauber would dull the excitement in the game. So, you can find different types of daubers across the world.
But why the difference? It comes down to how people view their daubers as follows:
Basic markers: To some people, daubers are a means to the end. So, they don't pay much attention to the frills and instead choose the marker that does the job. In this case, almost any dauber passes the test.
Superstition objects: Bingo, like any other casino game, attracts a lot of superstition. Some people think they must wear certain clothes, walk a certain way, or even play a certain number to win. Along that line, some also have emotional ties to daubers and will only choose daubers with specific colors, heights, or brands. To them, the dauber predicts their chances of winning or losing and they don't take their chances with this.
So, you can always find a dauber that matches your beliefs, preference, and budget. Ah, the versatility!
DIY-ing is Welcome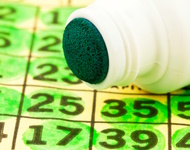 In a world where people make almost everything, is it hard to believe that you can fashion a dauber? People build their own houses, make their own lotions, fix their cars, and tailor their own curtains. Thus, making a dauber is not all that different and aligns with this DIY trend.
But how do you make a dauber? It's easy. You just need ink, a bottle, and a nib. Your choice of materials can come down to preference as there is no one-size-fits-all approach in daubers. The key lies in finding a lightweight combo that does not smudge the bingo cards or weigh down your hand.
And if you're wondering if bingo halls will have an issue with a DIY dauber, they won't. There are no rules on dauber sourcing. The restrictions only apply to the gaming rules and your behavior in the hall.
The Ink Matters
Before buying or making a dauber, you should consider the type of bingo card you want to mark. Else, you can choose an ink that will be barely evident on the paper. And that makes it hard for you to follow the caller or prove your case if you win. The best bet lies in having daubers with different ink colors. You can use the right dauber for each card and ease your gameplay.
Daubers are Multipurpose
You might think your dauber only serves your bingo gameplay. But that could not be further from the truth. Daubers double as pens for different purposes. You can use it to mark items around the house, create art, make notes, etc. So, as you make your dauber, think about the design that can help you achieve more uses.
What Makes a Good Dauber?
Whether you buy or make a dauber, you should consider the following factors as they can make or break your game:
The ink flow: Daubers should have good tips that release just enough ink on the paper. The ink should not smudge the paper nor should it be non-viscous and get in the way of fast marking.
The weight: As much as a dauber should embody your personality, a heavy dauber can reduce your speed and tire you out. Choose a dauber that feels natural in your hand and avoid anything that feels hefty.
Once you have these considerations down, you can lean onto daubers that have aesthetic appeal per your preference. Also, while it's easy to harbor superstitions about daubers, you should familiarize yourself with bingo rules. Knowing how to mark the cards and what patterns to follow will help you increase your winning chances.
Many online bingo sites understand the pull towards daubers, especially for long-term bingo players. So, they offer you a dauber to use when marking cards to give you the feel of playing a traditional bingo game. Moreover, some allow you to customize the dauber to match your shape, size, and color preferences. And as we move into the metaverse, you will have the chance to hold your bingo dauber in the virtual realm as you game with other people who will take on avatar forms.