Understanding the Usage of Bots at Bingo Sites
Published:

June 16, 2023

Author:

Kat Anderson
As more and more people enjoy online bingo, inevitably questions have been raised about its fairness. One often-raised issue is that of bots. People are worrying that UK bingo sites are using bots to the detriment of players. If you have ever wondered about this, then read on as we attempt to answer your questions.
What Are Bots?
First, it is important to understand exactly what a bot is. In the world of online gaming, a bot, short for robot, is a computer program designed to carry out tasks automatically without the need for human intervention. The task could be something as simple as sending out an automated response or it could be something more complicated, such as playing online bingo.
Online Bingo Sites and Bots
When people think of bots in relation to online bingo, they often first think of reasons why it would be wrong for bingo sites to be using bots. For instance, if a site were using bots to generate more activity, this would be unfair to the human players. Similarly, if bots were being used to play and win games so that the sites could keep the prize money, that would also be wrong.
However, using bots in this way is considered fraudulent and is illegal in several jurisdictions around the world. Regulatory bodies, such as the United Kingdom Gambling Commission and the Malta Gaming Authority, enforce strict regulations about fair play and transparency in online gambling, including online bingo. The use of bots to create false player activity or influence the distribution of winnings is a direct violation of these regulations and can lead to severe penalties, including large fines and the revocation of operating licenses.
Legitimate Uses of Bots

However, it is important to recognise that there are such things as legitimate and beneficial usage of bots. Many online platforms, including online bingo sites, may use bots for technical purposes. These bots are often employed for software testing and website functionality checks. They simulate the behaviour of human players in order to stress test the website, identify potential bugs, and ensure the user experience is as smooth as possible. Importantly, these bots are not used to engage in games with real players or to influence game outcomes.
Identifying Bots in Bingo Games
There may have been times when you have been playing bingo and wondered if you were playing with a bot. It is growing increasingly difficult for players to spot bots as they are becoming better at mimicking human behaviour.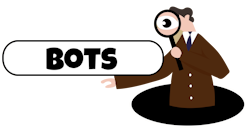 However, a few things may point towards a bot. To begin with, bots are often very repetitive in their behaviour so if you see the same thing happening repeatedly, there is a chance that it is a bot. Furthermore, bots may respond to game events or make decisions more quickly than a human player could. They might be present online for extreme lengths of time or they may even appear to be active around the clock. Usernames associated with bots are often nonsensical, generic, or follow a recognisable pattern. Additionally, bots often display little to no interaction with other players, which may stand out on a bingo site where the chat rooms are active.
However, it is important to remember that both real people and legitimate bots, such as those testing the software, could display these behaviours. Therefore, the presence of a bot does not mean that you are being put at a disadvantage.
It is also important to remember that bingo is a game of chance. Therefore, even a bot that is being used to play the game will not have a greater chance of winning than a human player does. This means that if you see the same player winning time and time again, it is more likely that he or she is simply having a lucky day.
Play Worry Free at Licensed Sites
No one likes the idea that bots may be cheating them. Luckily, avoiding this is simple. Just stick to playing at properly licensed sites and you can be sure that the games are above board and any use of bots is for legitimate reasons.
If you are wondering about bots, take a few minutes to look at the site's terms and conditions as they often contain information about the site's bots policy. Rather than worrying about looking for patterns in other players' behaviour, stick to identifying patterns on your bingo cards and enjoying the thrill of the game.