Bingo Fundraisers – How to Host the Perfect Event
Published:

February 2, 2023

Author:

Kat Anderson
Bingo games in your local hall and online bingo events have long been a favourite way to raise money for charities and good causes, and hosting a fundraiser can be a huge amount of fun. They bring together the community and give people the chance to have fun while raising money. Better yet, organising a bingo fundraiser is straightforward and relatively inexpensive. If you want to know exactly how to go about running your own bingo fundraiser, then read on.
Preparing the Event – Venue and Budget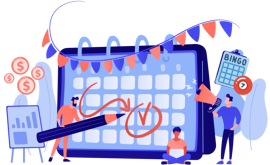 Before you start on the logistics, it is first a good idea to set a clear goal for the bingo fundraiser. It will help you stay focused when organising the event and help make the event more successful. You should consider factors such as how much money you need to raise, your budget, and the number of people you hope to attract.
Of central importance is where the event will be held. You need to consider factors such as the location, size and accessibility of the venue, as well as any associated costs, such as insurance and parking. Ideally, the venue should be easy to reach, have plenty of space for the participants, and not cost too much money. It is worth checking with venues to see if they offer any discounts for charities.
Once you know how much you are seeking to raise and you know the cost of the venue, you can begin to consider your budget in more detail. It is important to examine all of the costs, such as bingo cards, prizes, advertising, and staff. Try to ensure you have funds left over for any unforeseen expenses.
Planning the Bingo Game – Prizes and Cards
While the event may be for charity, the more attractive your prizes are, the more people are likely to take part. However, you will have to balance the prizes against their cost. It is a good idea to offer a range of prizes, starting from small items such as chocolate and progressing to more valuable prizes, such as gift certificates or even gadgets such as tablets.
In addition to the prizes, you need to design the bingo cards and have them printed. There are plenty of bingo card templates available online, but you can always create your own. In addition to ensuring a clear layout, you may wish to include the name of the bingo charity and any logos of sponsors or adverts. Printing the cards can be quite costly, and sponsorship can be a great way to cover part of the expense.
Advertising the Event – Marketing and Promotion
There is no point in running an event that no one knows about, so marketing is of the upmost importance. The first thing to consider is who the target audience is and what the demographic of the community is. You can then begin to put together a marketing plan. You should consider the different marketing channels available to you and how they can help you reach the target audience.
Possible avenues include social media, email and print advertising. Social media is likely to be one of the most cost-effective ways. Platforms such as Facebook, Twitter, and Instagram are an easy way to reach a large number of people and keep them up to date. Make sure that the important details, such as date, time and location, are always clearly displayed. You may also consider working with local businesses to reach a wider audience.
The Event Itself – The Game and Prizes
When it comes to the day of your bingo fundraiser, make sure that the venue is set up with enough tables and chairs, and that the bingo cards and prizes are ready to hand. You will also need to have designed the system for calling out the numbers and handing out prizes.
Ideally, the bingo caller will be someone with plenty of energy and charisma who will be able to keep the players engaged. They, of course, need to be familiar with the rules and ideally any local idioms, such as rhymes for the numbers. You need to position the caller somewhere where they can easily be seen and heard.
Ensure that the way the numbers are drawn is truly fair. If you don't have access to a bingo drum, you could simply pull the numbers out of a hat. It is a good idea to recruit some volunteers to help players keep track of the numbers and to distribute the prizes. It is important that you keep the players engaged at all times and to that end, you could run extra activities between bingo games, such as trivia rounds or raffles. Finally, make sure that there are drinks and snacks on sale. This will not only help to keep players' energy up, but can be another way of raising money.
After the Event – Analysis
Following your bingo fundraiser, it is worth spending some time carrying out an analysis so that you can see what to improve the next time. Consider how many people attended, how much money was raised, whether players seemed to have fun, and so on. It is also worth talking to the organising team and event runners to see what they think could be improved upon. Finally, don't forget to ask the participants if they enjoyed the event.
Online Bingo as An Alternative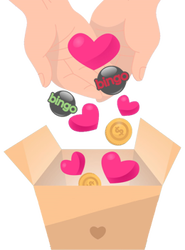 So far, we have been discussing organising an in-person event; however, it is entirely possible to run your bingo fundraiser online. Many of the best bingo sites run charity games for their chosen good causes, and they after often hugely successful.
If you want to run an online bingo fundraiser, then much of the above still applies. You will still need to set goals, plan your budget, the prizes, advertising and so on. However, you will also need to choose a suitable online bingo platform. You can actually use almost any video conferencing platform, but you should choose one that people are familiar with and comfortable using.
You will also need to set up an online ticketing system and a secure way of collecting payments. Similarly, you will need to look into the best way of distributing prizes. While this may sound complicated there are a number of benefits to running an online bingo fundraiser. To start with, your costs are likely to be lower as you will not need to rent a physical venue. You will also be able to appeal to far more people, which will hopefully lead to a larger amount of money being raised.
Effective Fundraising with Minimal Organisation
As you can tell, there are a number of stages to planning and running a bingo fundraiser whether online or offline, but none of them is particularly complicated. With a little effort, you can put together an event that is enjoyable and raises a great deal of money for charity. Good luck!