Join the Community in Bingo Chat Rooms
Published:

March 17, 2023

Author:

Kat Anderson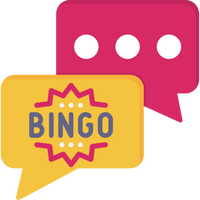 Bingo has always been an inherently social experience. One of the key reasons for its popularity is that people can visit a bingo club with friends, catch up on the latest gossip, and generally have a good time while playing for prizes. One of the challenges facing online bingo operators is recreating this social atmosphere. Playing at a computer is a solitary experience, which means that there was a danger that bingo would lose much of its appeal.
However, thanks to chat rooms and games, online bingo can be just as social as playing in a bingo hall. You can enter an online community of likeminded players by joining in the bingo chat room fun and you will even have the chance to win more prizes thanks to a number of chat room games. Joining a chat room can feel a little daunting, but here we have put together all the information you could possibly need.
What is a Bingo Chat Room?
A bingo chat room is pretty much exactly what it sounds like. It is a space for players to send each other messages and get to know each other. The chat rooms are usually built into individual bingo rooms and as such, players are often referred to as 'roomies'. Roomies will come together to talk about shared interests, the bingo games, and so on. The chat room is also an excellent resource for new players who want to learn more about how to play, guidelines and bingo strategies.
To make sure that things run smoothly and remain friendly, the rooms will have a moderator, known as a 'mod' and a chat host, known as the CH. The host can also run chat room games, which we will come to a bit later.
Where to Find the Bingo Chat Room
This will depend slightly on the design of the bingo site that you are playing at and on whether you are playing on a desktop or mobile device. Sometimes the chat room will be in a bar on the right hand side of the screen; however, more often there is a small box that can be opened or minimised where players can send and receive messages. Some players will choose to keep it closed as it distracts them from the bingo action, but this means that they are missing out on the chance to win bonus prizes from the chat hosts.
What Does a Chat Host Do?
If you have ever visited a bingo club, then you know how important the bingo caller is in setting the atmosphere and keeping payers entertained. The chat host is simply the online version of the bingo caller. While they don't have to call out the numbers, they are responsible for ensuring that there is a lively and friendly atmosphere. Furthermore, they are there to answer any questions about the game, promotions, and so on.
In some bingo chat rooms, the chat host is also the moderator. This means that they ensure that the chat remains friendly, inappropriate language is avoided, players do not become abusive, and so on. The host and the moderator are not always the same person, but both roles will always be present.
What are Bingo Chat Room Games?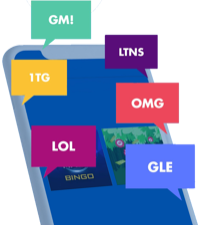 Bingo chat rooms are not only for talking to fellow players; they also host games that run alongside the bingo action. The games give you the chance to win prizes such as bonus money, free bingo tickets, free spins, and more. The chat games take different forms but often, they fall into one of three different categories, trivia games, number games, or buddy games.
The trivia games are very straightforward; whoever answers the question first wins. For example, the host could quote a line from a film and ask which film it came from. The number games come in various different forms; for example, players may be asked to guess which ball will be the winning number or which ball will be the first or last. Buddy games usually award prizes to those who share something with the full house winner. For example, all the players whose usernames begin with the same letter as the username of the winner may win a prize.
Bingo Chat Room Terminology
If you are new to bingo chat rooms, then some of the terminology is extremely confusing. There are all kinds of acronyms and it isn't always obvious what they stand for. Here is a list of the most common of them. While it may look long, you'll find that they become second nature very quickly:
💬 1TG: One Number Left To Go (to get bingo)
💬 2TG: Two Numbers Left To Go
💬 AFK: Away From Keyboard
💬 BAK: Back At Keyboard
💬 BBL: Be Back Later
💬 BBS: Be Back Soon
💬 BFN or B4N: Bye For Now
💬 BLNT: Better Luck Next Time
💬 BO: Blackout
💬 BOGOF: Buy One Get One Free
💬 BRB: Be Right Back
💬 CM: Chat Moderator
💬 CYA: See You
💬 CYAL8R: See You Later
💬 EV1 or E1: Everyone
💬 GG: Good Game
💬 GL: Good Luck
💬 GLE: Good Luck Everyone
💬 GLNT: Good Luck Next Time
💬 GLTU or GL2U: Good Luck To You
💬 GM: Game Master
💬 GN: Good Night
💬 GR8: Great
💬 GTG or G2G: Got To Go
💬 HB: Hurry Back
💬 IRL: In Real Life
💬 JK: Just Kidding
💬 JP: Jackpot
💬 JTLYK: Just To Let You Know
💬 LMAO: Laughing My Arse Off
💬 LOL: Laugh Out Loud
💬 LTNS: Long Time No See
💬 NP: No Problem
💬 OIC: Oh, I See
💬 OMG: Oh My God
💬 PITA: Pain In The Ass
💬 ROFL: Roll On the Floor Laughing
💬 TTFN: Ta Ta For Now
💬 TTYL: Talk To You Later
💬 TY: Thank You
💬 TYVM: Thank You Very Much
💬 WB: Welcome Back
💬 WTG or W2G: Way To Go
💬 YW: You're Welcome
Enhance Your Fun with Bingo Chat Rooms
Hopefully, you now understand what online bingo chat rooms are all about. They can significantly add to the enjoyment of the game and give you the chance to win some fantastic prizes. Next time you login to play bingo, be sure to say a quick hello in the chat room, there's no way you'll regret it!