It's that time of year again – awards season is already in full swing. We've seen celebrities walk the red carpet at the Golden Globes and the SAG awards, and a few of them even managed to come out on top over their competition. Not only that, but we've seen and heard of the reunion between Jennifer and Brad (and witnessed far too many memes on the situation as well). Of course, there's still plenty of awards events to come, including the BAFTAs, Spirit Awards, and Oscars. So, while we wait to see who the winners are, let's take a look at our top bingo scenes occurring in television series and film.
Big Momma's House 2 (2006)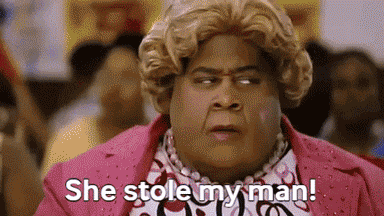 Hilarity ensues from start to finish in the Big Momma's House series of films, but perhaps never more so than when the whole family attends a bingo game. We get to see a variety of dabbers and bingo cards being marked off before FBI agent Malcom Turner (who has once again donned the getup of Big Momma) has to defend the family's daughter, Carrie who has taken it upon herself to shout out "bingo".
The other gamers inside the hall watch on with angered faces as Carrie's father attempts to placate them. Big Momma then has to defend herself when a disgruntled lady accuses her of "stealing her man," causing quite a commotion.
Rampage (2009)
The plot of this film revolves around Brendan Fletcher, portrayed by Bill Williamson, who has a thirst for revenge and so constructs himself a set of full-body armour out of Kevlar. He then goes on a killing spree, which ultimately doesn't sound so bingo-friendly. Yet, there is a bingo hall scene within the film. The scene opens in a calm and relaxing manner…and pretty much stays that way, as the players are way too immersed in their bingo gaming to notice that the killer (in full body armour) is walking amongst them!
The Simpsons (TV Series 1989- )
Perhaps everybody has at least heard of The Simpsons before – after all, Homer, Marge, Bart, Lisa and Maggie have been gracing our screens for many years already. They've pretty much tackled all sorts of topics on the series, including bingo! While it is quite a short scene, it displays pensioners all seated at their tables in the bingo hall, but none of them really appear to understand what they've gone there for! The caller shouts out, "I-25" before a player asks what letter it is. He repeats that it's "I" before another player asks what number. Again, he calls "25", before the former gamer asks what game it is. The caller shouts out "Bingo" in response, leading to the second player grimacing and throwing his bingo card away!
Jack Whitehall: Travels with My Father (TV Series 2017- )
Sticking with television, Jack Whitehall has appeared in various series and has participated in stand-up comedy as well. In this series, where he travels the world with his dad, the pair attend a bingo game held in a retirement community in Sun City West. Despite Whitehall questioning a resident over the ratio of men to women in the community and her answering with, "about 75% men and 40% women" (!), the bingo game gets off to a good start.
The scene portrays exactly what we've all come to expect from bingo halls – a collection of elderly people waiting to get their 'eyes down looking'. Of course, Whitehall incorporates his usual spark of wit into the bingo hall, coming up with a number of amusing bingo calls, and announcing that his dad will top up the basic $100 prize to a "whopping $1,000" for whoever wins. While Jack's dad initially calls a full house, he throws him out for "cheating" before one of the residents calls "bingo" to claim the $1,000 victory.
Hotel Transylvania (2012)
That's right, even in animated movies, bingo has found itself being focused on. Hotel Transylvania focuses on Dracula, who operates a high-end resort for monsters of all kinds. However, he goes into overprotective mode when a human boy stumbles on to the resort and falls in love with the vampire's teenage daughter. In the film's short bingo scene (which features talking skulls in the bingo tumbler instead of numbered balls), the monsters of the resort are all enjoying their leisurely game until a female character screams out "bingo!". The monster seated next to her, perhaps in a jealous fit of rage, gobbles up her winning bingo card before she can claim her prize!
Curb Your Enthusiasm (TV Series 2000- )
Out of all the celebrities who play bingo, Larry David seems to blend best with the crowd at the bingo hall. Known for his cringe humour and talent for escalating any uncomfortable moment into an unnecessarily awkward situation, Larry has been making us squirm with second-hand embarrassment for ten seasons now. However, in the bingo scene from "Kamikaze Bingo" – the fourth episode of season 5, there was not a single bingo player who did not sympathise with him. Well-pleased with a full house, Larry excitedly proclaims "Bingo!" only to have his win challenged by Ruth, another player and resident of the retirement home where the game is taking place. The caller Lenore also claims that Larry hasn't heard the last number called correctly, but when he asks to see her pad, she refuses to show it and vehemently denies having called it I – 17 (the number in question). Just a few moments later, with the next number called, Ruth wins a full house, raising suspicions that she and Lenore had been in cahoots all along and had rigged the game.
Benidorm (TV Series 2007-2018)
Derren Litten's comedy series about the Solana Resort in Benidorm is hilarious, and it proves that even when you're on holiday in Spain, you're still able to enjoy a spot of bingo. Unfortunately, a freak storm ends up pouring rain down on one of the episodes in series 4, which leaves Lesley to set up a bingo game to keep the guests entertained. Things seem to be going swimmingly with it all, as Lesley informs the guests that the star-prize will be a brand-new laptop.
As central characters Madge and her daughter Janice get stuck in with their dabbers, Madge exclaims at one point that she only needs the number 7 to be called in order to win. However, from another corner of the room, a drunken Pauline dabs number 6 off her card and exclaims that she's won before grabbing the microphone and shouting down it, "F*@k the lot of you!". While she collapses down drunk, her eventual prize is a lap dog, rather than a laptop!
Bingo may not find itself included in films and television series as much as say casino games or poker does, but it always seems to be an intriguing moment when it does. It just goes to show that bingo can be entertaining for all ages, regardless of where it shows up!